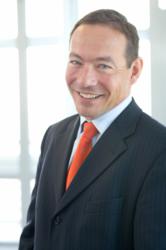 "It is difficult to distinguish from competitors at the product level. IT services is becoming the critical differentiator. With SolveDirect ServiceGrid we provide a solution that helps optimize IT services." Martin Bittner, CEO SolveDirect.
Vienna, Austria (PRWEB) October 27, 2011
IT service providers as well as administrators and support managers in medium and large corporations need to control and integrate a wide range of IT service partners, different systems and forms of communication in order to monitor the efficiency of processes and manage the multiple service level agreements (SLAs). Traditional B2B approaches are no longer effective, as they impose barriers to scalability, are expensive and are designed only for the direct connection between two service partners. The result is that companies lack insight into the entire service value chain and the quality of their IT services.
SolveDirect ServiceGrid enables easy integration and networking of various partners and service organizations by integrating a variety of help desk and service desk systems and applications on the basis of replicable processes and workflows. The efficiency of service processes is increased through service automation with best practice ITIL processes. Since ServiceGrid is a cloud-based solution, all you need is an internet connection and a browser to take advantage of the cost savings and minimize administrative efforts. Extensive reporting and analysis provide transparency into all internal and external processes which combined with the new Predictive SLAs feature means that bottlenecks can be predicted and subsequently avoided.
Rapid on-boarding of new partners and customers
The on-boarding of new partners and integrating into the ecosystem will take a few minutes rather than weeks. Only one B2B connection needs to be built to the SolveDirect ServiceGrid. New partners and customers can quickly and easily register themselves on the ServiceGrid platform and share their processes. On the platform they see what is made available by other companies and then can connect to them in only a few clicks - which is as easy as adding contacts in LinkedIn.
"Companies find it increasingly difficult to distinguish itself from competitors at the product level. Therefore, IT services is becoming increasingly relevant and becomes the critical differentiator," said Martin Bittner, CEO of SolveDirect. "With SolveDirect ServiceGrid we provide IT service providers and enterprises a solution that helps optimize IT services. The time to market is greatly reduced and with real-time reporting and trend analysis service processes can be fully monitored. The use of technologies such as cloud computing and social networking approaches allows easy implementation, cost-efficient operation and collaboration in the ecosystem. "
###