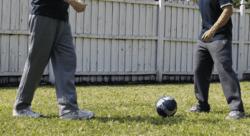 "Our philosophy at ForTheFit.com is that style has nothing to do with height. Rather, good looks are about choosing the right styles in the right sizes to enhance your natural frame." Consuelo Bova, CEO ForTheFit.com
Orlando, FL (PRWEB) October 27, 2011
For The Fit, Inc., with their most recent launch of tall slim men's clothing has once again taken style to new heights.
"Most American retailers stock items that suit the middle 50% of shoppers, where profits are strongest," explains Consuelo Bova, C.E.O. of For The Fit, Inc. (ForTheFit.com). Unfortunately, that leaves men taller or shorter than average with limited options, such as purchasing expensive custom apparel or buying off-the-rack and paying for subsequent alterations. Shorter men may also scour children's and young men's departments for any suitable options. "When I asked about trousers with shorter inseams or more trim-fitting dress shirts for my 5'7" husband, sales clerks often laughed and said 'What's the big deal, just get them taken in.'," recalls Bova, "The 'big deal' is that I had neither the time, nor the desire to make multiple trips to stores and the tailor to doctor a pair of chinos everyone else could buy off-the-rack, particularly considering the expense and inadequate results." For example, though a pair of regular, store bought slacks can be hemmed, the basic proportion on the pants, such as the rise or the placement of pockets, will remain awkward for a shorter man. And the tall guys?, "You just can't add length to off the rack trousers if the material simply isn't there," says Bova
Frustrated with the lack of viable, fashion options for shorter men, Bova launched ForTheFit.com in 2005 together with her partner and 5'7" husband, Jeff Bova. At the time, they knew that short men's clothing was just the beginning for them, "I knew first-hand the frustration of hard to find sizes for short men- but also for tall men. My brother in law & many of my close friends are 6'4" or taller, but also slim- Big & Tall never worked for them, and 'regular' sizes are too short," recalls Bova. As a new business owner, new to the fashion industry and pushing the envelope with requests for sizes that didn't exist in the marketplace, the first few years were a struggle for ForTheFit.com. "Sourcing & industry reticence were our biggest hurdles in those first few years," explains Bova. But in 2010, they began designing their proportioned men's apparel in-house and having apparel manufactured under a house brand. "Once we had the manufacturing side figured out, we knew the time was right to continue to expand and meet the needs of other hard-to-fit sizes. Tall guys were next."
Most large, national retail stores with Women's, Petite's and Big and Tall departments simply do not carry sizes for shorter, smaller men or taller slimmer ones. Nationwide, less than a half-dozen specialty retailers are serving the short men's market and many of these treat their wares as a solution to the embarrassing problem of being a short male. Bova objects to that attitude, "Our philosophy at ForTheFit.com is that style has nothing to do with height. Rather, good looks are about choosing the right styles in the right sizes to enhance your natural frame." Though limited and dominated by a few major retailers, "Big and Tall" menswear is readily available nationally. But what of the "Slim and Tall"? "This is the other half of that bell-curve," sighs Bova, "if you are less than a XXL, but also happen to be over 6', no one stocks your sizes. " Except, of course, ForTheFit.com. Their new collection includes styles proportioned for men over 6'Tall, Slim or Big, as well as customer favorites proportioned in short men's sizes. The collection is comprised of athleticwear and jogging pants, sleepwear, chinos, shirts and accessories (such as long & short length ties). In the Fall, they plan to add to that line-up with dress trousers and premium denim.
Because ForTheFit.com is an online retailer, available for shopping 24 hours a day, they are able to serve customers across the U.S. and internationally. ForTheFit.com's goal? "To provide our customers the best service, by offering them the right styles, in the right sizes, right away," says Bova. It may be a TALL order, but For the Fit is confident they will succeed- one SMALL step at a time.
COMPANY INFORMATION: ForTheFit.com sources, designs and manufactures items that offer men and women of hard-to find sizes a better overall fit with modern style. Shorter individuals, for example, are often told to shop the kid's department or get everything tailored. Others simply resign themselves to a poor fit. ForTheFit.com emphasizes finding the right styles and fit for each individual body type as the key to a better look. Founded in 2005, the company initially focused on the needs of shorter men under 5'9". Since then, the company has added other hard-to-fit categories for men and women, including Tall & Slim Men's Clothing, with more to come!
ABOUT CONSUELO C. BOVA, ESQ. Consuelo is the C.E.O. of online, specialty retailer ForTheFit.com. Five years in product marketing at a Fortune 200 Financial Services company, three degrees (international business & marketing degrees, and a J.D.), and one short husband (and now business partner) led her to take on this business challenge. She has been interviewed in larger media outlets (including the Wall Street Journal, The Orlando Sentinel, Inc. Magazine, and WomenEntrepreneur.com, among others) on the topics of specialty retailing and entrepreneurship.
###