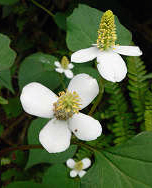 Many use Dokudami as part of an herbal body cleanse.
New York, NY (PRWEB) October 26, 2011
Take advantage of Japanese traditional medicine by using Dokudami. This gentle herb brings multiple benefits to anyone who uses it. With scientific evidence mounting, many Westerners are learning about the best of what Japanese medicine has to offer. One of body cleansing herbal tea called TEN-CHI TEA contains Dokudami.
Western medicine has much to learn from traditional Eastern sources. One of the best-kept secrets of Japanese medicine is the body-cleansing herb, Dokudami. The Japanese have used this herb for various medical treatments for centuries. Today, people in the West can take advantage of its power.
What is Dokudami? From a scientific perspective, this herb is Houttuynia cordata. The herb is growing wild on the shady slopes of mountains in Japan, Korea, China, and other parts of Asia. It grows from 8 inches up to 30 inches tall. From a gardener's perspective, with green-yellow flowers, it is a great addition to many landscapes.
But, what does it do as part of an herbal body cleanse? The name gives you a clue. "Doku" means poison and "Dami" means blocker. It is literally a poison-blocker. As part of a body cleansing herb preparation, it helps block anything that is not healthy for the body. Traditional Japanese medical practitioners have utilized this herb to handle infections, coughs, fever, skin abscesses, tumors, snakebite, and boils, among many other medical conditions.
Many in the Western world are starting to pay attention to this herb. After completing research on this herb, scientists have found that many of the traditional claims are true. Here are a few things to consider.
Dokudami helps keep histamines under control. That aspect helps fight allergies and asthma. Dokudami contains poly-phenols. Those organic chemicals cleanse the blood of free radicals. Dokudami stimulates the release of lymphocytes in the body. Those "killer" white blood cells make the immune system stronger. Dokudami focuses on specific forms of harmful bacteria. Two of the species it loves to kill off cause many cases of acne. Dokudami brings down inflammation of many types. It works better than many standard anti-inflammatory medications. Dokudami removes toxins from the body as part of its free radical fighting capabilities.
Many will see that Dolkudami does a great deal more than look pretty in the garden. This body cleansing herb works to give a human body back its ability to fight from the inside out. Many use Dokudami as part of an herbal body cleanse. With so many capabilities from a single herb, users get a powerful punch. It works to clean the blood. It works to clean the colon. It works to make the entire body work, as it has not since childhood.
About the Company
Eco Vita, LLC is an environmentally conscious, health product company, positioned to deliver vital herbal and natural products in the United States. The company is dedicated to social responsibility in areas of the world that supply their products. Eco Vita is a member of the UN Global Compact.
###