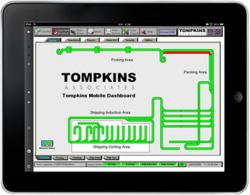 This new tool offers higher visibility to warehouse operations and immediate access to vital information.
RALEIGH, NC (PRWEB) October 25, 2011
Supply chain leaders and warehouse managers can now get critical material handling data on-the-go with Tompkins' new Mobile Material Handling Equipment Dashboard (T-MD).
T-MD utilizes the convenience of smart phones and tablet-computer software to provide updates on material handling system health and operational metrics via the Tompkins Warehouse Control System (TCS).
"This new tool offers higher visibility to warehouse operations and immediate access to vital information," says Jim Tompkins, CEO and President of Tompkins Associates. "The user-friendly capabilities complementing the TCS also allow managers and warehouse personnel to easily and quickly see a real-time overview of the status of their equipment and shipments. And even more sophisticated details can be viewed at the touch of a button."
The new T-MD features:

Summary operational status: A color-coded at-a-glance summary displays the status of orders shipped versus planned.
Summary material handling equipment health: This "SCADA (supervisory control and data acquisition) in your pocket" shows critical event notices of the system graphical overview on a screen that is optimized for the mobile technology form factor.
Detailed status by area and component: "Drill-down" capability enables the mobile maintenance tech to view and diagnose system faults.
Customer-specific screens: Tompkins' native development capability allows for customization of the T-MD to meet each organization's needs.
"These new capabilities for reporting and alerts will enable TCS to maintain its position as an industry leading warehouse control system," notes Paul Faber, a Principal at Tompkins and chief engineer behind the new mobile option.
Learn more about the TCS and the Tompkins Mobile Dashboard at:
http://www.tompkinsinc.com/integration/control_system.asp
About Tompkins Associates
Tompkins Associates transforms supply chains for profitable growth. For more than 35 years, Tompkins has evolved with the marketplace to become the leading provider of growth and business strategy, global supply chain services, distribution operations consulting, information technology implementation, material handling integration, and benchmarking and best practices. The company is known for innovative, practical solutions that improve supply chain performance and produce value-based results. Headquartered in Raleigh, NC, Tompkins has offices throughout North America and in Europe and Asia. For more information, visit http://www.tompkinsinc.com.
CONTACT:
Keri McManus, 919-855-5516
kmcmanus(at)tompkinsinc(dot)com
###