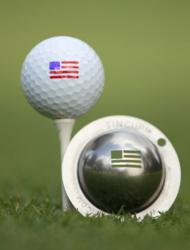 "Tin Cup is a fun new product that makes the perfect holiday gift for all ages."
Falls Church, VA (PRWEB) October 26, 2011
Tin Cup Products, founded in June 2009, has come a long way and the company is gearing up for a very busy holiday season. Tin Cup is now in over 580 of the finest golf course pro shops and retail stores across the country including Congressional Country Club, Hazeltine, Baltusrol Golf Club, Edwin Watts and PGA Superstores among many other locations.
The company has 28 independent sales reps across the country and now has distributors in Canada and England. Tin Cup Vice President, Cabell Fooshe said, "We are very pleased with our growth the past two years as sales have increased 400% and we are looking forward to a busy holiday season. We are also very proud that the product is 100% Made in the USA, particularly during these economic times." During the Holiday period the company is offering free shipping for online orders of $30 or more and is offering its retailers a 60 days net payment terms.
Tin Cup allows a golfer to mark their golf ball with a customized golf ball marking template and a permanent ink pen. Standard designs are available at http://www.tin-cup.com or a personalized cut out can be requested online. Per the USGA Rule (12-2) that requires golfers to be able to identify their ball during play, the Tin Cup allows the golfer to "Make Your Mark".
The Tin Cup is made of a 100% stainless steel shell and the cup is placed over the ball and the golfer can trace their mark onto their ball with a permanent ink pen. The Tin Cup is 100% Made in the USA and covered by U.S. Patent No. D604,786S. The company now has over 80 designs from which to choose including a Martini glass, a Chili Pepper and many new college designs.
###