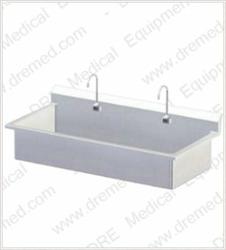 Louisville, KY (PRWEB) October 27, 2011
DRE Inc. — a premier supplier of surgical and medical equipment — recently unveiled an official line of economically priced medical stainless steel products that are useful in all surgery and clinical settings.
The line is manufactured in the United States. It features top-of-the-line equipment including utility tables, stainless steel scrub sinks, and plumbing fixtures such as sprayers, faucets and foot pedals.
Stainless steel tables are NSF approved and constructed of heavy-duty, 16-gauge 304 stainless steel. Available in various sizes and configurations, including stationary tables, mobile tables, and with or without drawers. Customized specifications are also available. Table legs are 1.5-square-inch stainless steel tubing and have adjustable bullet feet. Rolling tables feature heavy-duty 5-inch diameter swivel casters (two with locking brakes).
DRE scrub sinks, which are also NSF approved and constructed of heavy-duty 16-gauge 304 stainless steel, are available as wall-mounted versions or countertop (drop-in) models.
Learn more about DRE stainless steel products at dremed.com, where health care providers can order supplies and accessories at the click of a button.
About DRE, Inc.
DRE is a premier medical and operating room equipment supplier. Since 1984, DRE has provided a combination of new and professionally refurbished or used medical equipment to industry professionals around the globe.
# # #