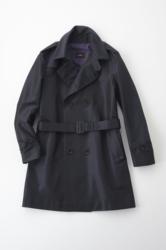 New York, NY (PRWEB) October 27, 2011
Sanyo Shokai New York, Inc. today announced the Sanyo Charity Coat, a coat from which 100% of the proceeds will be donated to the Japan Earthquake Relief Fund.
The Sanyo Charity Coat is being supported by advertising from its exclusive retail partner, Saks Fifth Avenue, in The Wall Street Journal. Sanyo and Saks Fifth Avenue have been doing business together for 30 years.
The Charity Coat, made of 100% Japanese silk, was made in Japan by a Sanyo factory located in the Aomori prefecture, which suffered damage from the earthquake on March 11, 2011.
"We're very excited to introduce the Charity Coat," said Chris Champlin, Sanyo's Vice President of Sales. "The devastating earthquake in March touched so many people, including our colleagues at Sanyo Shokai, and we wanted to do something to contribute to the recovery and rebuilding efforts, which will be underway for years to come."
Available in black, the belted double-breasted trench coat is fittingly embroidered in gold stitching on the inside chest pocket with the Japanese symbol for hope, 希望.
"The elegance of this highly-detailed trench coat makes it a great piece for the office or formal affairs. At the same time, wearing it with a pair of jeans or other casual pants creates a really nice contrast look," Champlin went on to say.
The retail price of the Charity Coat is $795.
Availability:
The Sanyo Charity Coat is now available on the Sanyo website at http://www.sanyofashionhouse.com, at Saks Fifth Avenue in Manhattan, or by calling 1-800-99-SANYO (between the hours of 9:00am-5:00pm EST).
Sanyo Shokai New York, whose parent company Sanyo Shokai Ltd. is the largest apparel manufacturer in Japan, designs and manufactures men's luxury and casual outerwear. Its retail partners include Nordstrom, Saks Fifth Avenue, Barney's New York, and Bloomingdales, among other prestigious retailers.
Incorporated in 1981, Sanyo Shokai New York is currently celebrating its 30th anniversary.
###