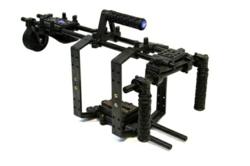 My CPM Rig has made all the difference, because it is strong, lightweight and easy to use. I was able to keep the camera stable and fluid while walking, going up and down stairs, and in tight positions.
Louis Burgdorf, Producer
MSNBC "Morning Joe"
Lusby, Maryland (PRWEB) October 27, 2011
CPM developed a system of carbon fiber rods combined with carbon-filled polycarbonate components to fill the need for strong yet lightweight camera rig configurations to house cameras, such as the Canon 5D, 7D and the Rebel line of T2 and T3, as well as Sony's new line of Alpha cameras including the A55,A65 and A77. The system is designed as a cage, rod and bracket system to add multiple accessories providing customizable accessory mounting points to increase the overall strength of the system without adding unnecessary weight. Also light is the price, so the rigs combine well with the relatively inexpensive Panasonic GH! And GH2.
CPM has over 20 camera rig configurations available for sale. The Bulldog Shoulder Shooter Camera Rig is the workhorse of the CPM lineup of Camera Rigs. Weighing in at a mere 7 lbs., including the 2 lb. counter weight set, the Bulldog rig provides the best strength to weight ratio of any rig currently available, allowing the shooter to add multiple accessories. This proves well for DSLR style shooting since the lighter weight allows the shooter to position the accessories in a more balanced layout, reducing shooting fatigue and providing more stable shots for long sessions. The Bulldog's composite construction is non-conductive. Heat and cold do not transfer to the shooter or the equipment, making the Bulldog an excellent rig choice for outdoor sports activities. The cage was designed for active filmmaking without the burden of excessive weight or camera restrictions. It includes cinema standard 15mm carbon fiber rods at 24 inches in length and multiple hand grip locations provide for limitless custom configurations.
Concepts and engineering to prototypes, tooling and final production, all aspects of manufacturing are performed under a single roof from CPM's operations center in Lusby, MD. For more information on CPM Camera Rigs, visit online at http://www.cpmcamerarigs.com or e-mail sales(at)cpmcamerarigs(dot)com.
###