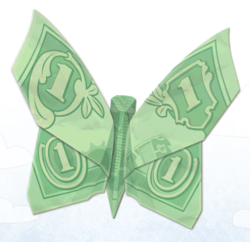 Highland Park, IL (PRWEB) October 26, 2011
This fall, as high school seniors start diligently applying to colleges and scholarships, Cappex.com is offering a scholarship opportunity with a unique twist to students who want an extra piece of encouragement.
The Cappex Butterfly Effect Scholarship is designed after its namesake phenomenon where one small event, such as a butterfly flapping its wings, can lead to a huge event in the future, such as a hurricane. In this case, to mark the start of their college and scholarship searches and inspire them to continue connecting with colleges, Cappex is giving away one dollar scholarships to all high school students who apply.
"We see the dollar as a fun and symbolic gesture that is merely the first of many flutters along the way to students' college dreams," Cappex's president, Chris Long, said.
Students who apply for their one dollar scholarship are given the option to receive their dollar or donate it to charity, and are also automatically eligible for the $2,500 scholarship to be awarded in January.
"At Cappex, we are very passionate about students' college aspirations," Long said. "We wanted to do something positive that would encourage students to work towards their higher education goals."
High school students can apply for their dollar and much more here: http://www.cappex.com/butterfly
About Cappex.com
Cappex.com is a comprehensive college search and scholarship portal that helps students and parents make college decisions. In addition to more than 3,000 college profiles with student reviews and college admission prediction tools like the What Are My Chances® Calculator, Cappex.com also allows parents and students to find their match from thousands of scholarships offered by companies and organizations around the U.S. Cappex also provides $11 billion in scholarships offered by the colleges themselves. With more than 3 million student users, Cappex.com is the trusted source to help students find their ideal college fit, and where hundreds of colleges from across the U.S. and beyond go to connect with prospective students.
# # #