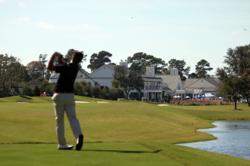 Broadcast live on The Golf Channel each year, the tournament's Daniel Island location has drawn praise from players, the media and fans.
Charleston, SC (PRWEB) October 25, 2011
The PGA Tour's Nationwide Tour comes to its annual pressure-packed conclusion October 27-30 on the Daniel Island Club's Ralston Creek course where the season's top sixty money winners will compete in the Nationwide Tour Championship at Daniel Island. The tournament's $1 million purse includes a first prize of $180,000, but the big prize on the players' minds are the 25 PGA Tour cards that will be awarded to the season's final top earners following the tournament's conclusion.
This is the third year the Nationwide Tour has concluded its season at Daniel Island. Owned and operated by the PGA TOUR, the Nationwide Tour identifies those players who are ready to compete and win on golf's greatest stage. Each year, immediately following the conclusion of the Championship tournament, the season's final top 25 money winners are presented with their PGA Tour cards for the following year. Two-thirds of the current PGA TOUR membership played on the Nationwide Tour, and five rookie players who received their cards at last year's Nationwide Tour Championship won big on the PGA TOUR this year, including the 2011 PGA Championship winner, Keegan Bradley.
Broadcast live on The Golf Channel each year, the tournament's Daniel Island location has drawn praise from players, the media and fans, who enjoy watching the high-level competition unfold amongst the Lowcountry scenery and the club's friendly and intimate setting.
In addition to nail-biting competition, the event also brings live music and entertainment to the back of the clubhouse all week long. This year's tournament features a Celebrity Pro Am Tournament and "Pro Am Jam" on Tuesday, October 25th, featuring Mark Bryan and Darius Rucker of Hootie and the Blowfish, Branford Marsalis, Pat Green, Johnny Lee and other special surprise guests. Fans and players also enjoy the 19th Hole Happy Hour and live music following play each day of the tournament.
The Nationwide Tour Championship is presented by the Student Transportation of America Education Foundation, which advances education opportunities available to high school seniors in Charleston and throughout the country. In addition to raising funds for this notable cause, the tournament raises money for dozens of area non-profit organizations through its TICKETS Fore CHARITY program.
The private Daniel Island Club is located in Charleston, S.C. on Daniel Island, an award-winning master-planned community that is a preferred choice for Charleston real estate. The Club is home to nationally-ranked golf courses designed by Tom Fazio and Rees Jones. The Nationwide Tour Championship will be played on the Jones-designed Ralston Creek course, a par-72 layout that stretches to 7,446 yards and features a breathtaking Lowcountry setting.
###