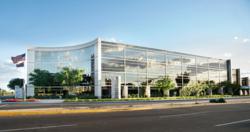 Phoenix, AZ (PRWEB) October 28, 2011
Sara Dople was one of Smartcomm's first employees, when the company was founded in 2007. She helped develop the research department for the company's subsidiary Smartcomm License Services, LLC ("SLS"). As SLS's Research Analyst, Ms. Dople monitored all of the progress of the 800 MHz Reconfiguration.
"Sara really hit the ground running when she first joined Smartcomm," says Smartcomm CEO Carole Downs. "She's been such an asset to the company and we are thrilled to be able to promote her to Director of Spectrum Policy." In her new role Ms. Dople will research and analyze FCC Spectrum Policies as they apply to Smartcomm's current and future business plans. She will continue to perform her previous duties, as well as act as "engineering liaison" between SLS and its engineering consultants.
Though Smartcomm's corporate office is in Phoenix, AZ, Ms. Dople works out of Smartcomm's Maryland office.
The 4G World 2011 Conference in Chicago (taking place October 24-27) will examine the most crucial technology and business issues facing the wireless industry today. It will also cover the real-world deployment of 4G, the evolution of mobile backhaul, new and upcoming 4G services and solutions, and the business and financial models driving these new businesses. Perhaps of greatest relevance will be a finance seminar focused on financial processes of telecommunications providers, which will address additional regulations, how to maximize profits and much more.
Ms. Dople continually attends classes and conferences on all wireless telecommunications subjects.
About Smartcomm, LLC
Phoenix-based Smartcomm, LLC provides consulting services and investment opportunities in the wireless communications industry to both individual and institutional investors. The company specializes in opportunities to acquire 700 MHz, 800 MHz and 1.9 GHz band spectrum through the filing of license applications, participation in FCC public auctions or acquisitions in the secondary market.
###