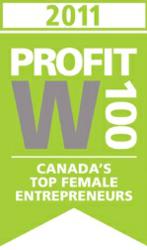 What an honour to be singled out within such an elite group of technology companies.
Toronto, ON (PRWEB) October 27, 2011
It's been a banner week for 360 Visibility and its CEO, Lynn Cooke. First, Cooke was recognized with a berth on Profit magazine's W100 list, which celebrates successful Canadian female entrepreneurs. Next, the company Cooke co-founded with Marco D'Ercole was selected by Microsoft for its esteemed Ingram Micro (VTN) - Microsoft Partner of the Year Award.
Cooke was ranked in the 76th position on the Profit W100 rankings, up from the #98 spot she occupied in 2010. The PROFIT W100 ranks applicants by a composite score that considers the size, growth rate and profitability of the companies they own and manage.
The women on the inventory come from all corners of Canada and their businesses—which range in size from five to 1,300 employees—span a vast range of industries. In 2010, W100 firms generated almost $1.4 billion in revenue, and provided the equivalent of 9,000 full-time jobs. Taken together, the entrepreneurs on the list grew their businesses by an average of 156% over the past three years.
"Given that this award covers a recessionary period," says Cooke, "I must say that I feel pleased with our accomplishment."
Microsoft Partner of the Year, presented October 17 in Las Vegas, the VTN Spotlight awards recognize many of the year's best-performing VTN members and organizations. The VentureTech Network is a select North American organization of independent professional IT firms within Ingram Micro Canada who focus on small to mid-size businesses.
"This is a major win for us," says Cooke. "What an honour to be singled out within such an elite group of technology companies."
About 360 Visibility Inc.
360 Visibility is a business solutions company dedicated to enabling enterprise clients to make swift, well-informed, coordinated and profitable business decisions. Our expertise includes Microsoft Dynamics GP, Microsoft Dynamics NAV, Microsoft CRM, Microsoft Licensing, Microsoft Azure, Microsoft Office 365, VoIP Communications Systems and technology infrastructure. The Toronto-based firm concentrates its practice in the professional services, distribution, and property management industries. To learn more visit us at http://www.360visibility.com
About the Profit W100
Now in its 13th year, the Profit W100 ranking and awards program is Canada's largest celebration of female entrepreneurs. It honours their achievements, highlight the immense benefits they create for their workforces and communities, and identifies their most effective business practices. The ranking and accompanying coverage of these entrepreneurs and their secrets for success appear annually in the November issue of Profit magazine and at http://www.profitguide.com.
About the Ingram Micro VentureTech Network
The Ingram Micro VentureTech Network helps premier SMB solution providers grow their businesses through relationships with key vendor and reseller contacts, exclusive offers and SMB-focused programs and services that aren't found anywhere else in the industry.
# # #