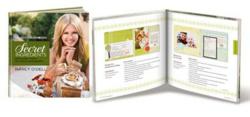 "You don't have to be a professional designer or greeting card writer to craft a gift that matters. All it takes is a few photos mixed with a handwritten note or two to express your love.
ST. Cloud, Minnesota (PRWEB) October 26, 2011
A doll is cute. An iPod is cool. But a handmade photo gift personalized with a few words from the heart can be one of the most treasured gifts you ever give. That's the promise of "Secret Ingredients: Step-by-Step 'Recipes' for Creating Meaningful Gifts," a brand-new book by acclaimed entertainment host and broadcast journalist Nancy O'Dell and scrapbooking-industry leader Creative Memories.
Available Nov. 1, just in time for the holidays, "Secret Ingredients" outlines easy ways to create meaningful photo albums, posters, cards and more. "You don't have to go to the mall to find the perfect gift," O'Dell says. "You already have all the ingredients you need. Simply combine your photos with messages of love and affirmation."
As an avid scrapbooker, O'Dell is uniquely qualified to talk about the value of such gifts. "I still look back on the albums my mom and grandmother made for me and feel like the most loved child in the world," she said. "So when my husband and I first married, I wanted to make albums for my two stepsons. In the process of collecting photos and stories, I got to know each boy better and was able to show how much I love them."
O'Dell's approach in this new book helps busy moms easily create personalized gifts for family and friends. Project "recipes" range from a Countdown to Christmas Calendar filled with personalized activities and inspirations to a Display of Gratitude, where family members jot down and display what they're grateful for on a magnetic display board, to planting a tree and taking your child's picture next to it each year as they both grow.
"You don't have to be a professional designer or greeting card writer to craft a gift that matters," O'Dell says. "All it takes is a few photos mixed with a handwritten note or two to express your love. It truly is the thought that counts."
O'Dell will share her easy tips and ideas for creating meaningful, personalized gifts Oct. 26-28 while visiting media outlets in New York City. In addition to Fox & Friends, the CBS Early Show team and Rachael Ray, O'Dell will visit with staff at Self and American Baby magazine, as well as other New York City magazine editors, and she'll be on the airwaves with Sirius Radio.
About Nancy O'Dell
Nancy O'Dell is one of the country's leading entertainment journalists and TV hosts. She joined "Entertainment Tonight" as co-host in 2011 and was previously the anchor of "Access Hollywood" for 13 years. In partnership with Oprah Winfrey and Mark Burnett Productions, Nancy hosted one of OWN network's premiere primetime shows entitled "Your Own Show." Viewers have also seen O'Dell as host of "The Golden Globes Arrivals Special" for nine years and co-host of "The Tournament of Roses Parade" on NBC for 10 years and FOX's New Year's Eve Special to ring in 2011. Learn more at nancyodell.com. Follow Nancy on Twitter @nancyodell and on Facebook at facebook.com/NancyODellsPage. Visit O'Dell's page between now and the end of November and you can enter to win one of each product in the Nancy O'Dell Collection by Creative Memories.
About Creative Memories
Creative Memories is the 2011 Minneapolis/St. Paul Business Journal's Minnesota Brand Madness Champion. The company pioneered modern scrapbooking 25 years ago and is a leader in the $2 billion scrapbooking segment of the craft industry. Based in St. Cloud, Minn., Creative Memories markets its photo-safe albums, papers, tools, pens, digital photo books and organization software through 35,000 independent sales Consultants worldwide. The company is well known for its quality and innovation, having won a variety of design and readers' choice awards. Learn more about the company and ways to celebrate memories at creativememories.com.
Join the Club, get the rewards you deserve
The Creative Memories Rewards Club brings you the scrapbooking products you love and the rewards you deserve. Each retail purchase earns Club Credit to spend on your next purchase, so saving money is fun and easy. For an annual fee of $39, Club members receive an immediate $10 Club Credit during enrollment plus 15 percent Club Credit earned on the retail amount of each order.
Where there's hope, there's action
Join the Hope in Action Movement, a grassroots effort to encourage everyone to experience the affirmation that photos and words can provide to families everywhere. Together we can raise and inspire the next generation of happy, healthy, confident kids. Become an agent of hope today!
###