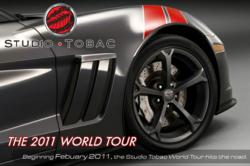 giveaway of a one of a kind Cain Daytona Corvette valued at $70,000
Miami, FL (PRWEB) October 26, 2011
On Thursday November 3rd, 2011 from 5-9 PM, Neptune Cigar Superstore will be hosting one of the last stops of the Studio Tobac 2011 World Tour, and the only event of this kind in Miami, Florida. The tour, which began February 2011 across the nation, will end in November 2011 with the giveaway of a one of a kind Cain Daytona Corvette valued at $70,000!
Studio Tobac is an enterprise of Miami's Oliva Cigar Company reuniting their most innovative minds to conceive new cigar concepts such as the very successful NUB, a cigar which introduced a complete new format in premium handmade cigars to the industry, and CAIN, the only STRAIGHT LIGERO cigar in the world. Studio Ambassador Bryan Scholle will bring to Neptune Cigar's Superstore the Special Edition 2011 Touring Corvette Convertible. Scholle will also be bringing the Studio's latest projects with him.
The STUDIO TOBAC Limited Edition Sampler will be available for Free to any customer who purchases a box of STUDIO TOBAC products (Nub, Cain...) at the event. This unique and rare sampler of unreleased cigars will not be available for sale online, and will not be sold separately.
Each sampler will contain one of each of the following cigars.
1. Cain F Lancero – Cain F blend in a Lancero format, presented in an aluminum tube.
2. Cain FF Torpedo – 6x54 Torpedo; a stronger blend of the Cain F.
3. Cain Daytona Short Robusto – Daytona blend in a sampler exclusive 4.5x50 short Robusto size.
4. Nub Habano Perfecto – the first Nub Perfecto ever created. 4.5x60.
5. Nub San Andreas Maduro – 4x64. A new size and a wrapper never before used on Nubs.
6. "ST/DS-100," an unnamed, full bodied, all Maduro prototype cigar.
There will also be a drawing at the event for a custom made scrimshaw Studio Tobac cutter among other things. These are very unique cutters that will not be for sale anywhere. Bryan Scholle will roll cigars at the event and talk about the new Cain Daytona cigar.
So, don't miss that Mega-Party from Neptune Cigars, we'll have free food & drinks, Valet parking, Live music and a really good atmosphere!
Neptune Cigars
9308 South Dixie Highway, Miami FL, 33156
http://www.NeptuneCigar.com
Phone Number : 1-800-655-3385
Hours of operation:
Monday to Wednesday from 9 is to 8 pm
Thursday to Friday from 9 am to 9 pm
Saturdays from 11 am to 9 pm
Sundays from 12 to 6 pm.
Visit our superstore or order online at http://www.NeptuneCigar.com
###