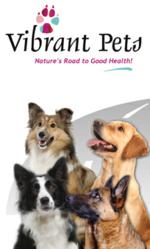 Once again after four to six weeks of Canine Athlete added to her food twice daily, the dog's coat has improved dramatically and is almost as good as new

Peter
South Africa.
Berryville, VA (PRWEB) October 28, 2011
Vibrant Pets has announced over 10% content increase in all their line of products.
Under the current economic conditions Vibrant Pets has strived to provide a product that is continually improved and upgraded to keep pets healthy for less of the cost of half a cup of McDonald's coffee.
Giving more product without increasing the price, Vibrant Pets has proven not only to be one of the most powerful Pet Supplements, but also the most cost effective in the market today.
Vibrant Pets is so confident in the improvement pets will show during the first two weeks of using their supplements that offers an unconditional guarantee with a full refund if not completely satisfied, no other supplement comes close to this guarantee.
At the heart of Vibrant Pets is the love of animals and the company's continued commitment to improve their line of product.
Vibrant Pets has received numerous testimonials and stories from their customers addressing almost every pet health issue.
It is those testimonials and real life stories that keep the company on a mission to improve the supplements so even the most finicky of eaters will enjoy them.
Please log onto the Vibrant Pets website to read the testimonials and learn more about Canine Athlete, Senior Complete, Frisky Feline, Vibrant Equine, Joint and Muscle and Skin and Coat, and their commitment to this extremely powerful line of pet supplements .
Lee Phillips, the president, is so passionate about Vibrant Pets making a difference he encourages you to call him directly at 540-579-4531 or 866-945-7387 with any questions you may have or to share your experience with the supplements.
###