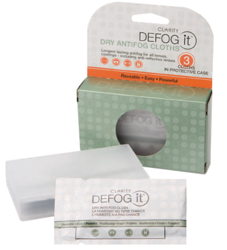 The Defog It anti fog mission is to prevent the fogging that causes people to remove – or not wear – safety glasses and goggles.
Valley View, OH (PRWEB) October 27, 2011
Every 43 seconds, an eye injury occurs in an American workplace, according to data from Prevent Blindness America. For Eye Injury Prevention Month Defog It anti fog offers seven tips to improve workplace eye safety. The effort is part of an on-going effort to reduce the 2000 daily workplace eye injuries costing $300 million in annual lost production time, medical expenses, and workers compensation costs.
A fact-filled whitepaper How to Improve Workplace Eye Safety: Seven Simple Best-Practice Tips is available at the Defog It anti fog website. It provides more in-depth research and advice on these best practices:
1. Check eyewear fit and appropriateness. Over 90% of eye injuries occurring while workers are wearing eye protection are a result of material entering around or under the protective shield.
2. Provide anti fog. In research, fogging was the #1 vision-related reason given for not wearing protective eyewear.
3. Provide easy access to safety eyewear. Are supply rooms open and eye stations well-stocked? Also provide lanyards and cases to keep eyewear close at hand.
4. Don't let cheap eyewear cost you. Low quality safety glasses scratch and degrade, and workers may be more likely to remove them.
5. Offer multiple styles of safety eyewear. It can improve worker comfort and sense of style.
6. Use more experienced workers as mentors. Research suggests younger, newer workers may more readily accept their advice.
7. Regular training works. Train new workers, have refresher courses, reinforce with posters and newsletters.
"The Defog It anti fog mission is to prevent the fogging that causes people to remove – or not wear – safety glasses and goggles," says John Swett, Vice President of Sales and Marketing for Defog It. "The includes creating educational materials for safety professionals and workers."
First used by the military worldwide, Defog It anti fog is proven in the toughest workplace environments where heat, cold, humidity, changing temperatures and exertion cause fogged safety eyewear. Defog It is available as a liquid or reusable cloths and is safe and effective on safety glasses, goggles and faceshields.
Lab tests confirm the Defog It's high performance. In one test, a lens treated with Defog It was held over constant hot steam for 60 minutes without fog forming. Similar products failed in as little as 5 minutes. In another test, lenses coated with Clarity Defog It were moved between cold and hot environments 100 times without fog forming.
About Defog It (http://www.defogitworks.com). Defog It anti fog liquid and anti fog towelettes are safe and effective on safety glasses and goggles, eyeglasses, sunglasses, and other eyewear. First proven in the military, Defog It is now the choice in workplaces where heat, cold, humidity, changing temperatures or exertion create a fogging risk.
Product information, safety resources and product reviews are available online.
About Nanofilm (http://www.nanofilmproducts.com). Nanofilm, founded in 1985, is the maker of Clarity Defog It and a global optical leader in lens care and coatings. Millions of people around the world use Nanofilm products, including Clarity Clean It™ and other lens care products, as well as nanotechnology-enabled coatings.
###