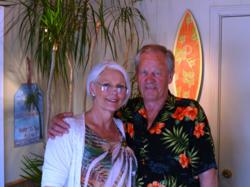 Allow us to make your parking and travel more pleasurable and hassle-free!
Bellingham, WA (PRWEB) October 26, 2011
Travel agents may offer added service to their traveling customers flying to Hawaii from the Bellingham International Airport who also appreciate clean, paved, safe, secure and gated parking. Your travel customers can enjoy their Hawaiian Vacation Start at Wiki Wiki Park n Shuttle. Wiki Wiki Park n Shuttle's focus is on "Vacation Fun", and leaving nothing to worry about while away. Wiki Wiki Park n Shuttle is an off-site parking facility which provides an option to Bellingham Airport Parking eliminating the concern regarding "where is the shuttle?" and "how do I get from here to there with luggage in tow?" The Wiki Wiki Shuttle is at the arrival gate upon your return from Island fun.
Each participating agency will receive a complimentary 7 day parking coupon. For additional information please contact Wiki Wiki Park n Shuttle at info(at)wikiwikiparknshuttle(dot)com with Referral Program in the subject line.
A quick visit to Wiki Wiki's Facebook page, http://www.facebook.com/WikiWikiParknShuttle?sk=reviews, and even Google to see what the reviews are saying about such service provided.
Wiki Park n Shuttle LLC, established March 2011
4770 Pacific Hwy.
Bellingham, WA 98226
1.888.233.5523
wikiwikiparknshuttle.com
http://www.facebook.com/WikiWikiParknShuttle
info(at)wikiwikiparknshuttle.com
Owners; Ernie & Velma Henken
About Wiki Wiki Park n Shuttle Start-up
Whatcom County native Ernie Henken is a "go getter" with gusto for life, business, and time with family and friends. After closing his RV business located along Interstate 5, his long-time friend Paul Kirby suggested that his property with easy I-5 access could capitalize on the Bellingham International Airport's expansion which includes direct flights to Hawaii by highly respected Alaska Airlines.
This sales entrepreneur went into quick action. Within 45-days, Ernie with his wife and partner Velma opened the doors to Wiki Wiki Park n Shuttle.
"Wiki Wiki" means Hurry! Hurry! or Quick! Quick! in Hawaiian. Son-in-law Tim Willmorth contributed this clever play on words because of the shuttle buses in Hawaii that transport you to and from the airport are called Wiki Wiki.
From their own experience of traveling, the where to find parking, how to get luggage from point A to point B, deal with traffic and uncertainties, or even running a little behind can make traveling to the departure gate somewhat stressful and hard work. For only $8 per day, (which incidentally is less than the airport parking fee) Wiki Wiki Park n Shuttle's goal is to take this stress away, and offer a relaxed atmosphere with added fun. The Henken's greet their customers in their island style reception area, serving their Hawaii bound customers complimentary family friendly Mai Tais, silk leis for the ladies all with Hawaiian music softly playing in the background to set the mood for their vacation.
Wiki Wiki's facility provides paved, fenced, secure gated parking, free shuttle transportation to the airport, and are waiting at the curb on your return to hear tales of vacation fun. Once back at the parking facility approximately 3 miles distance on the frontage road of the Interstate 5, fresh Kona coffee is offered as well as hot chocolate or tea to help warm up and wake up the overnight flyers.
Everyone leaves with a bottle of water to help keep the hydration up while heading for home.
Travelers with Las Vegas and other destinations in sight are also looking to Wiki Wiki for parking. This cooperative relationship is public sector big business supporting private sector small business at its finest.
Initially the Henkens targeted BC residents, but soon recognized that the service they provide attract from all points, south, east as well as north. Receiving comments from travelers both written and verbal… proves again that good old fashioned personal service… still prevails!
Wiki Wiki Park n Shuttle offers website reservations (wikiwikiparknshuttle.com) for reserved parking space or call 888-233-5523. Their service is convenient, affordable, and friendly.
###