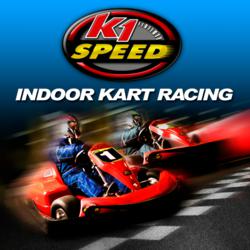 Irvine, CA (PRWEB) October 26, 2011
With 10 locations nationwide, K1 Speed is the largest indoor karting company in the country, and with the opening of its newest location in Santa Clara, is introducing indoor go kart racing and a fresh concept in corporate events to Silicon Valley. K1 Speed Santa Clara, which features more than 65,000 sq. ft. of space, a professionally-designed racetrack with safety barriers and live telemetry, the latest in high-performance, zero-emission electric go karts, and an impressive collection of authentic racing memorabilia, is now open. The venue is available both to the public (who can participate in Arrive-and-Drive racing anytime, without a reservation) and to corporations looking to host team-building exercises, corporate events, management meetings, and parties. Much like the company's other locations in Southern California, Washington, Florida, and Arizona, K1 Speed Santa Clara is a world-class entertainment venue, and offers the corporate community a truly unique experience.
To satisfy the "corporate" needs of a corporate event, K1 Speed Santa Clara provides clients with a range of options, including multi-media meeting rooms and catering. The meeting rooms come in a variety of sizes and can accommodate parties of five or 100. The aspect of K1 Speed's corporate package that is most attractive, and most unique, however is its state-of-the-art high-performance electric go karts. Environmentally friendly, these electric karts can reach speeds of 45mph, allowing both novice and veteran drivers alike to experience the thrill of wheel-to-wheel racing. With a professionally-designed and constructed racetrack that features collision-absorbing barriers for the safety of racers, and karts that can be electronically shut off or slowed down, K1 Speed Santa Clara is a safe and controlled environment – perfect for individuals looking to satisfy a need for speed.
Though gas-powered go karts are popular and are used at go kart tracks across the country, the zero-emission, all-electric go karts at K1 Speed are superior in many ways, and are what the company has built its reputation on. The electric karts at K1 Speed Santa Clara feature superior performance to gas-powered alternatives – more torque, quicker acceleration – and are cleaner and quieter, resulting in a much more agreeable and inviting atmosphere. Thanks to the zero-emission electric motors, K1 Speed Santa Clara is free of exhaust fumes and excess heat from dozens of spinning engines, and is far quieter. Even if you're an avid go kart fan, K1 Speed's electric karts are probably unlike anything you have driven before.
When taking a break from racing, individuals can relax and talk about their experience with co-workers in the spacious lobby, which features a Pit Cafe stocked with snacks and refreshments, and authentic racing memorabilia, such as racing suits, helmets, and race cars from the worlds of stock car racing and open wheel. With ample seating areas, club-like lighting, and plasma televisions that display racing, action sports, and live telemetry of the on-track action, there is ample opportunity to wind down and stay involved between races.
K1 Speed Santa Clara is conveniently located for companies located throughout Silicon Valley, including those headquartered in San Jose, Sunnyvale, Cupertino, Campbell, and Milipitas.
For more information, visit http://www.K1Speed.com
###