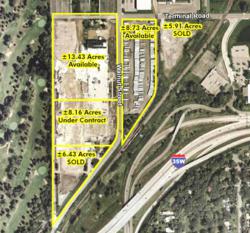 We have been very encouraged with the volume and terms of the Highcrest land transactions that have closed this year. The site has proven extremely desirable to distributors due to its central location and excellent access. Dan Williams
Roseville, MN (PRWEB) October 25, 2011
Meritex announced today that it has closed on the sale of three development parcels totaling 20.52 acres at Highcrest Business Park in Roseville, Minnesota.
Meritex closed on the sale of 8.16 acres to Setzer Properties RVE, LLC today. Setzer Properties, a developer based in Lexington, Kentucky, was selected by FedEx to develop a 120,000 square foot office/warehouse for its ground shipping operations. Construction is scheduled to begin immediately.
On October 14, 2011 Meritex closed on the sale of 6.44 acres to DMO Property Holdings MN, LLC. DMO plans to develop a new 60,000 square foot office/warehouse facility for CertiFit, an auto parts retailer based in Salt Lake City. CertiFit will be relocating from its current location in Vadnais Heights. Construction is scheduled to begin next spring.
On June 9, 2011, Meritex sold 5.92 acres of vacant land to Airgas North Central, Inc. who is finalizing the construction of a new 18,000 square foot office/warehouse facility. Airgas, based in Radnor, PA, distributes industrial, medical and specialty gases and related goods. Airgas will take occupancy in 2011.
In 2010, Meritex prepared the site for development and/or land sales by razing Highcrest Park, a 700,000 square foot, two-building facility it had owned since the early 1960's. Daniel Williams, chief investment officer for Meritex commented, "We have been very encouraged with the volume and terms of the Highcrest land transactions that have closed this year. The site has proven extremely desirable to distributors due to its central location and excellent access."
Meritex has two remaining parcels of land (8.9 acres and 13.2 acres) available for sale or build-to-suit. The 13.2 acre site overlooks the Francis A. Gross Golf Course and the 8.9 acre site is served by the Minnesota Commercial Railway.
Brian Pankratz, Tom Holtz and Steve Buss, brokers at CBRE office located in Bloomington, Minnesota, are marketing Highcrest on behalf of Meritex.
Company Information: Meritex is a private real estate investment and management company that acquires, develops, owns and operates commercial real estate, primarily institutional grade, multi-tenant industrial properties. The Company owns, leases, and manages 8.6 million square feet of commercial real estate in 7 markets in the U.S. Its portfolio consists of multi-tenant industrial, office and subsurface industrial properties. The Company's properties are located in Atlanta, Columbus, Denver, Houston, Indianapolis, Kansas City, and Minneapolis-St. Paul. Additional information can be found at the Company's website http://www.meritex.com.
###