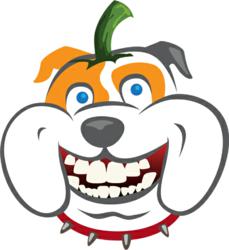 Keep candles and Jack O' Lanterns away from doorsteps where costumes could catch fire.
Ennis, TX (PRWEB) October 27, 2011
Wally's Party Factory, Card & Party Factory and Wicked Wally's Halloween Costumes, wishes everyone safe and fun trick-or-treating this Halloween season. A few pre-planning tips ensure the evening is all about treats and more treats:
Costumes:

Try on costumes ahead of time and consider using flashlights, reflective necklaces
and glow sticks.

Adding reflective tape to costumes and bags will also increase your visibility.
Make sure shoes fit well and costumes are short enough to prevent tripping.
Masks should fit securely and have eyeholes large enough for full vision.
Hats and scarves should be attached securely to prevent slipping over eyes.
Trick-or-Treating:

Only walk on sidewalks or on the far edge of the road facing traffic to stay safe.
Don't trick-or-treat alone; walk in groups or with a trusted adult.
Look both ways before crossing the street; use crosswalks when possible.
Avoid entering homes of people you do not know.
Avoid riding bicycles while trick or treating as costumes can catch in chains and
spokes.

Carry cell phones in case of an emergency.
Decorating:

Keep candles and Jack O' Lanterns away from doorsteps where costumes could
catch fire.

Remove possible obstacles from lawns, steps and porches.
Never leave a burning candle unattended and position candles away from curtains or
decorations.
Candy:

Parents should inspect all candy. Look for unusual appearance or tiny tears in
wrappers. Throw away any unwrapped or loosely wrapped candy.

Homemade items or baked goods should be discarded unless you personally know
who gave them to your child.

Parents of small children should remove any choking hazards such as gum,
peanuts, hard candies, and small toys.
By thinking of safety first, you are able to enjoy Halloween with your friends and family and create memories that will last a lifetime!
For more information regarding store locations and hours, upcoming events, party planning tips, ideas and more please visit Wally's website http://www.wallyspartyfactory.com. The website is packed with tips and ideas to assist customers with all of their party planning details.
Wally's Party Factory has a company-wide commitment of appreciation for those that serve our community and nation by offering a 10% discount to educators and members of the armed forces.
ABOUT WALLY'S PARTY FACTORY
Wally's Party Factory (http://www.wallyspartyfactory.com) based in Ennis, Texas, is the largest privately-held chain of family-owned independent party supply stores in the United States. Wally's, which also operates in some locations as Card & Party Factory and Wicked Wally's Halloween Costumes, began over two decades ago and has grown steadily into one of the nation's best party-supply and Halloween costume merchants.
The company's 37 party stores are located in Texas and Oklahoma: Abilene, Amarillo, Baytown (2), Brownwood, Cleburne, College Station (2), Conroe, Corsicana, Ennis, Ft. Worth (2), Georgetown, Huntsville, Kerrville, Lake Jackson, Lufkin, Longview, Midland, Nacogdoches, Palestine, Rockwall, San Angelo, San Marcos, Sherman, Temple, Texarkana, Tyler (2), Victoria, Waco, Waxahachie, Weatherford (2), Wichita Falls and Lawton, Oklahoma.
###