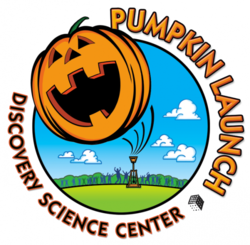 We use Pumpkin Launch as a vehicle to engage kids and expose them to the science behind the fun of seeing pumpkins fly through the air.
Santa Ana, CA (PRWEB) October 26, 2011
Flying pumpkins, Medieval Battles and soaring rockets, oh my! Taco Bell Discovery Science Center and Future Scientists and Engineers of America (FSEA) team up to offer a free day of hands-on science and family fun at the 4th annual Pumpkin Launch on Saturday, November 5th, 10:00 a.m. – 2:00 p.m. at California State University, Fullerton.
Team up with family, friends, colleagues and compete against others in the community to see whose self-made trebuchet or other catapulting device can launch a pumpkin and hit targets spread across a field. Not an engineer enthusiast? Don't fret, there's something for everyone to do at Pumpkin Launch. Experience a Medieval Battle, enter the carved pumpkin contest, catapult marshmallows, build a rocket, and watch live science shows. And if that is not enough fun, make sure you bring your appetite, because eight of the top gourmet food trucks in Southern California will be in attendance. Chow down on unique fare from Spudrunners, Barcelona On-The-Go, Dogzilla, Crepes Bonaparte, The Flip Truck, SlapFish, Pogi Boy, and The Lime Truck – Season 2 winner of The Great Food Truck Race!
"Discovery Science Center's Annual Pumpkin Launch is designed to be a day of education and fun for the whole family," says Discovery Science Center President, Joe Adams. "Our goal is to get kids excited about being on a college campus and interacting with engineering students. We use Pumpkin Launch as a vehicle to engage kids and expose them to the science behind the fun of seeing pumpkins fly through the air."
Pumpkin Launch is a free event open to the public. For more information, visit http://www.discoverycube.org/pumpkinlaunch
About California State University, Fullerton
Located at 800 N. State College Boulevard, Fullerton, the university is the largest of 23-campus California State University system. The university has several dynamic programs to encourage students to enter the science, technology, engineering and mathematics disciplines and offers mentoring and outreach programs to area schools and community colleges.
The university's College of Engineering and Computer Science is ranked among the top 100 engineering colleges in the United States by U.S. News & World Report. Titan Stadium is near the corner of State College and Yorba Linda boulevards.
About Future Scientists and Engineers of America
Future Scientists and Engineers of America (FSEA) is a national program of Discovery Science Center. FSEA gives students an opportunity to experience real engineering and science with a practical, hands-on method, which uses projects that challenge student teams to creatively solve problems. With Future Scientists and Engineers of America, while students are building a rocket, ROV, or pendulum clock, they're building teamwork, intelligence, and a really sweet future. http://www.fsea.org
About Discovery Science Center
Imaginations run wild through more than 100 hands-on exhibits at Discovery Science Center, Orange County's leading destination for hands-on science fun. Take the Eco Challenge and become a green superhero, feel the power of a real rocket engine "launch", explore the inner workings of a two-story tall dinosaur and try your best slap shot against the Anaheim Duck's goalie! Traveling exhibits and annual events such as Bug Invasion and Bubblefest throughout the year ensure that there is always something new to discover. Since 1998, Discovery Science Center has been a non-profit organization dedicated to educating young minds, assisting teachers and increasing public understanding of science, math and technology through interactive exhibits and programs. It is a community-wide resource where families come together to learn and have fun and school districts can use as an educational resource. Discovery Science Center welcomed its one-millionth visitor in 2003 and now hosts over 400,000 guests each year.
Open daily from 10am – 5pm. For further information, call us at (714) 542-CUBE or visit us online http://www.discoverycube.org.
2011 Pumpkin Launch Time Line and Events:
The 4th annual Pumpkin Launch will be held at Titan Field, November 5, 2011. The event is scheduled from 10 a.m. to 2 p.m.
In addition to the actual Pumpkin Launching, the events scheduled will include several stations for interactive activities such as the following:

Build your own catapult and throw marshmallows competition
Tower Building Activity and competition (using various size blocks, build the tallest tower)
Pop Rocket activity – film canisters and alka-seltzer tablets,
Spud Rockets – launch a potato piece at a target
Paper Airplane Building
Science Stage Show
Other activities:
Medieval Weapons Demonstration and combat, medieval arts and crafts
Arboretum Pumpkin Education
Concessions
Pumpkin Launch Time-Line for November 5th:
(All teams have an opportunity to test fire until Noon)
7:00 am - 10:00 am
Teams set up launch devices
10:00 a.m.
Event opens/Welcome
10:15 a.m. –Noon
Activities and events (See above)
11:00 a.m. –Noon
Test fire devices w/medicine balls
10:00 am - Noon
Medieval Battle Demonstration, arts and crafts – Ongoing
Noon -12:30 p.m.
Science Stage Show
12:30 p.m.
Competition Starts
2:00 p.m.
Competition Ends Final remarks/Awards Ceremony
###