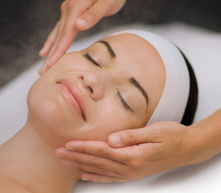 At Massage Envy Spa our massage and facial services go beyond relaxation - they provide physical and emotional benefits.
Houston,TX (PRWEB) October 27, 2011
Residents of The Woodlands have enjoyed therapeutic massage at Massage Envy Spa Market Street since the location first opened in 2006. But in 2009, when owner Nicole Leppert decided to convert her location to the first Houston regional Massage Envy Spa, residents have also experienced what she calls "affordable luxury" through healthy skin facials.
First-time clients for the one-hour facial receive a consultation with a Massage Envy Spa Market Street skincare professional. "Consultations with our skincare experts pinpoint client concerns such as pre-mature aging, sagging skin and other imperfections", says owner Nicole Leppert. A one-hour facial session includes a double cleanse which helps to restore the skins PH balance. The skincare expert will also identify which Murad Signature product is right for the client to take home so they can continue the healthy skin process in between facial sessions.
Converting to the spa concept has proven to be a popular decision for Massage Envy Spa Market Street. The location employs 5 licensed estheticians who perform close to 150 Murad Signature Facials each month. That's nearly 4,000 facials since they first began in 2009.
Currently, there are eight Massage Envy Spa locations including Massage Envy Spa Market Street. The Katy, Ella, Kemah, Bay Colony, Kingwood, Gleannloch Farms, Pasadena and Cypress Massage Envy locations offer facial services and according to Lance O'Pry, Regional Director of Massage Envy in Houston & Dallas/Fort Worth, that number will increase. "As Massage Envy continues to grow in the Houston area all new locations will provide facial services. In addition we anticipate converting several existing locations to the spa concept in 2012." Please visit these Massage Envy Spa locations at
http://www.massageenvyhouston.com
Combining skincare and massage has additional benefits. "At Massage Envy Spa our massage and facial services go beyond relaxation - they provide physical and emotional benefits. Specifically with facials the benefits include increasing circulation, decreasing signs of aging, improving tone and texture, and alleviating redness and sensitivity. When we look and feel better - it enhances our overall being! ", says Director Lance O'Pry.
About Massage Envy
Massage Envy, based in Scottsdale, Arizona, is the leading provider of therapeutic massage in the United States. The national franchise is dedicated to providing professional and affordable therapeutic massage and spa services to consumers with busy lifestyles at convenient times and locations. Founded in 2002, Massage Envy has 700 locations in 44 states. The company was recently named a top All Business (a D&B company) All Star Franchise, and is a member of the International Franchise Association (IFA). For more information, visit http://www.massageenvyhouston.com.
###