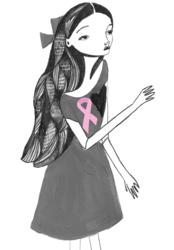 Read a great book, win cool prizes...and raise money & awareness for breast cancer research.
Los Angeles, CA (PRWEB) October 27, 2011
"(S)mythology" author Jeremy Tarr has partnered with The Keep A Breast Foundation to raise money and awareness for breast cancer prevention, education, and support. One dollar of every copy of "(S)mythology" sold between now and November 30, 2011, will benefit Keep A Breast's prevention and education programs.
"Keep A Breast does the incredibly important work of educating people my age that breast cancer isn't a disease that only affects our moms and grandmas," explains Jeremy Tarr, 30. "And they do it in a way that doesn't breed fear or worry. They bring awareness and joy – the joy of music and art and literature and the collective spirit of folks banding together to tackle this disease."
In addition, an interactive contest will be launched to help spread the word about the partnership: readers can win cool prizes including the brand new Amazon Kindle Fire tablet, a $150 gift card to Urban Outfitters, and autographed lithographs from "(S)mythology"'s beautiful illustrations. (More info at http://whereissophie.tumblr.com.) "(S)mythology" was released this year and is available in digital and print formats at major retailers; for a limited time only, the eBook is offered at a special price of $3.99 at Amazon.com and BarnesAndNoble.com.
Keep A Breast and "(S)mythology" are coming together to celebrate the partnership by joining together for a unique experience to benefit breast cancer awareness by casting "(S)mythology"'s illustrator, Katy Smail. Combining sculpture, philanthropy, and symbolic artistry, Keep A Breast Foundation Breast Casts™ are one-of-a-kind plaster forms of the female torso, and will be customized by Smail and auctioned off to raise funds for KAB's breast cancer awareness programs.
"My mother recently had a breast cancer scare," Tarr says. "All was well in the end, but there was a period of fear: of my mom's mortality, of the treatments and pain she'd go through, the toll it would take on her physically and emotionally. It was a terrifying prospect. I wanted to do something meaningful to help raise money and awareness for the fight against breast cancer."
About "(S)mythology"
Charming, poignant and funny, "(S)mythology" is a tale of magical realism for these harsh times. The reader is whisked on a wild adventure to the far reaches of the globe…and to the depths of the Underworld. Twenty-one year old Sophie has spent her entire life in virtual seclusion in a London flat fearful of a curse placed upon her when she was a child, but when events beyond her control drive her out into the world she must combat her fears for the people she loves. Told with tongue-in-cheek wit and wry whimsy by Jeremy Tarr in his debut novel, and with sixty-four illustrations by Katy Smail, "(S)mythology" is about the mythology of love, life, and death.
"(S)mythology" website: http://www.smythology.co.uk
Contest website: http://whereissophie.tumblr.com
"(S)mythology" on Facebook: http://www.facebook.com/smythologybook
"(S)mythology" on Twitter: http://twitter.com/jeremyetarr
About Keep A Breast
The Keep A Breast Foundation (KAB) is a 501 (c) (3) non-profit organization. Their mission is to help eradicate breast cancer by informing young people about methods of prevention, early detection and support. Through art events, educational programs and fundraising efforts they seek to increase breast cancer awareness among young people so they are better equipped to make choices and develop habits that will benefit their long-term health and well-being.
Keep A Breast website: http://www.keep-a-breast.org
Keep A Breast on Facebook: http://www.facebook.com/KeepABreast
Keep A Breast on Twitter: http://twitter.com/keepabreast
###