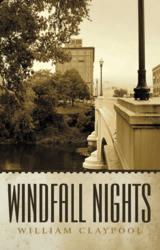 "Windfall Nights" is the first novel by Claypool, whose employment experience as a bellman and a naval officer breathes reality into the story
King of Prussia, PA. (PRWEB) October 27, 2011
The rollercoaster of emotions began for Thomas when his father died in "Windfall Nights" (published by iUniverse), a coming-of-age novel about male friendship by William Claypool.
The promising All-Star football player vanished, emerging years later in dungarees repairing a hotel door. Thomas next appears giving a private virtuoso piano performance witnessed by Julian, the narrator of the story, who is himself struggling to find his own place in the world. The two men develop a friendship that survives despite Thomas's mental disorder, social withdrawal and ultimate service in Vietnam. Life events shape each man until one finds redemption by self-sacrifice and the other comes to adulthood embracing love, family and duty.
"Windfall Nights" is the first novel by Claypool, whose employment experience as a bellman and a naval officer breathes reality into the story. His local color on the setting and situation are clearly a result of his Notre Dame undergraduate experience.
Claypool is an unconventional author. After graduating from the University of Notre Dame in South Bend, Ind. (the novel takes place in a town similar to that city, and the book's cover image is of an area hotel) and the University of Connecticut School of Medicine, Claypool was a naval medical officer, taught in medical schools, then led a worldwide clinical research department in the pharmaceutical industry. He has recently focused his entrepreneurial talents on drug development programs and strategies.
Claypool's second novel, a biotechnology thriller, is with a publisher.
Order "Windfall Nights" online at Amazon, Borders, Barnes & Noble, and iUniverse. To learn more about the author, visit http://williamclaypool.authorsxpress.com/.
Media and bloggers: To interview William Claypool or request a review copy of the book, contact:
Cindy Dashnaw, cdashnaw(at)bohlsenpr(dot)com, 317-602-7137 ext. 223
"Windfall Nights"
by William Claypool
ISBN 978-1-4260-0470-6 (sc)
5.5 X 8.5
© June 2011
###