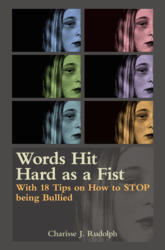 Getting an education shouldn't be a death sentence.
TEHACHAPI, CA (PRWEB) October 27, 2011
John Carmichael, 13, Texas. Tiffany Maxwell, 16, Pennsylvania. Lance Lundsten, 18, Minnesota. Seth Walsh, 13, California. These are just five of the 4,400 teenagers who have committed suicide in the past 12 months because they were being bullied. And it's why Charisse Rudolph wrote "Words Hit Hard as a Fist" (published by Balboa Press).
Nearly 30 percent of students are either bullies or victims of bullying, and 160,000 kids stay home from school every day because they're afraid of being bullied. (Source: ABC News) Victims of bullying are between two to nine times more likely to consider suicide than non-victims, according to studies by Yale University.
As Charisse J. Rudolph says, "Getting an education shouldn't be a death sentence."
Rudolph grieves for each one of these children – especially Walsh, who hung himself in his backyard in her own town of Tehachapi, Calif. She believes that if she or someone knowledgeable about bullying could have gotten to Walsh and the others in time, their lives could have been saved.
Her new book, "Words Hit Hard as a Fist," is designed to give teenagers, parents, teachers and counselors strategies for dealing with bullies and for helping others to do so.
"If every school library had even one copy of this book, think of how many kids could be helped and saved," Rudolph says.
It may already be happening. The Los Angeles Unified School District has ordered 20 books, and Rudolph says The Trevor Project, Teaching Tolerance, Model of Pride, Project 10 and Nestlé are all taking a closer look.
Dyslexia made her a compassionate activist
Growing up in the 1950s made Rudolph want to learn how she could have a powerful life as a female, and being dyslexic made that more of a challenge. She experienced what it's like to struggle through school not feeling able, or good enough, to achieve. At college, she had to tape the lectures and sit next to someone who would share his or her notes.
The author and public speaker still struggles with words; her book, in fact, shows signs of her learning disabilities with a few misspelled words and punctuation errors. When asked if she wanted to change them, she declined.
"I decided to keep them. Part of my message is being OK with who you are and still succeeding. My errors allow the reader to be accepting and tolerant. Even though I sometimes struggle to pronounce and spell words, I'm still intelligent. I know what I'm talking about. I am proof that no matter what challenges one may have, anything is possible," Rudolph says.
Most people with this type of disability would not attempt to write books, speak to large groups or share advice. But as an adult, Rudolph has not let her disability or anything else stop her; she truly is at peace with being "different." She has been coaching people since 1992 and won the Leadership Award for Contribution to Women in 2002. She has established a ranch for equine-assisted psychotherapy, ran an online forum about bullying intervention for the Ellen DeGeneres show, co-created an experiential team-building company working with many Fortune 500 organizations, and more.
Book is a how-to guide
"Words Hit Hard as a Fist" is a how-to guide for teens to stop bullying and gain self-confidence and self-esteem. Parents, relatives, teachers and even other teens can learn the same strategies so as to effectively intervene in situations where they see someone is being bullied – or with someone who is a bully.
"Words Hit Hard as a Fist" includes resources and a hotline. Learn more at http://theleadershiplady.tv. You can order the book there, as well as at http://www.BalboaPress.com and other online booksellers.
"Words Hit Hard as a Fist"
Charisse J. Rudolph
ISBN: 978-1-4525-3389-6
102 pages
Retail: $11.95
Author bio
Charisse J. Rudolph first learned about how cruel kids could be to each other at Lincoln Junior High School in California. She now resides in Tehachapi, Calif., where she is a columnist for The Tehachapi Loop newspaper. She is a nature and Southwestern artist specializing in horse portraits, with work shown in local galleries. Rudolph's first book, "The Secret Daydream, A Guide to Your Child's Future," teaches the law of attraction and was illustrated by the author. She and her husband operate a 21-acre horse ranch offering equine-assisted psychotherapy; they plan to start a similar program for returning veterans and their families. Rudolph is a member of the Screen Actors Guild and has acted in several commercials. (Her grandfather, Elmo Lincoln, was the original Tarzan in the silent-film era.) She also facilitated an online forum on bullying for Ellen DeGeneres' community website. She is available for hire as a speaker on bullying and motivation.
To reach the author or for a copy of the book for review, contact:
Cindy Dashnaw, publicist, 317-602-7137 ext. 223, cdashnaw(at)bohlsenpr(dot)com
###