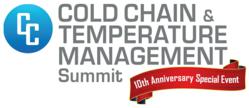 Toronto, Canada (PRWEB) October 26, 2011
Pharma IQ, a division of IQPC, announces the 10th Cold Chain & Temperature Control Summit, to be held February 27 to March 1, 2012, in downtown Toronto. The 10th anniversary edition of this event, the Summit is the only event for Canadian Cold Chain and Temperature Controlled Life Science Supply Chains, and is set to address how Canadian and international quality distribution professionals are implementing best practices and new solutions for the distribution of ambient, controlled room and cold life science products.
This year's Summit is set to address the latest global temperature control and sensitive handling requirements. A special segment on this 10th anniversary program features Rafik H. Bishara, PhD, Technical Advisor and Chair PCCIG USA Branch, PDA. He will give an in-depth look at global temperature control distribution as he speaks on the topic: Temperature Control Distribution Around the World: A Report from IQPC's Global Cold Chain Event Series and Advisors.
Other notable features of the program include:
Domestic Canadian Distribution:

Re-qualification of pack-outs and trailers for Canadian distribution
Assessing 2-8C and Ambient transport solutions for Pan-Province distribution
Shipping to northern Canada in the winter, extreme cold shipping solutions
Auditing distribution sites and partners for robust processes and 0069 compliance
International Distribution & Import:

European regulatory temp distribution and GDP guidelines
Customs and border issues for road and air freight US ≤≥ Canada
Shipping temperature sensitive clinical supplies to international and new markets
The 10th Cold Chain & Temperature Management Summit is the Canada's largest industry gathering of Pharma manufacturing professionals, supply chain and logistics partners and regulators. For more information on the Forum, please visit http://www.coldchainpharm.com or contact Courtney Becker-James, Program Director at Courtney(dot)Becker(at)iqpc.co(dot)uk.
About IQPC
IQPC (http://www.iqpc.com) provides business executives with tailored practical conferences, large-scale events, topical seminars and in-house training programs. Producing over 1,500 events annually around the world, IQPC continues to grow and has offices in cities across six continents including: Berlin, Dubai, London, New York, Sao Paulo, Singapore, Sydney, and Toronto.
Contact:
IQPC
Courtney Green
T: +1 800 882 8684
F: +1 888-231-7864
###