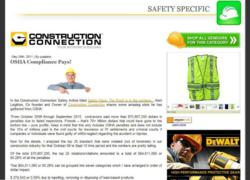 If your target audience is business owners, managers, and those that work in the construction industry, advertising with Construction Connection is the bull's-eye for you to generate business.
Austin, TX (PRWEB) October 27, 2011
Construction Connection, the top resource for individuals and companies in the construction industry, offers free networking and job posting opportunities online at ConstructionConnection.com. Other online resources include the latest construction industry articles, Construction Connection Radio, newsletters, seminars, the Construction Connection Blog, and community social networking opportunities via LinkedIn, FaceBook, and Twitter. Construction Connection offers all of its online services at no charge to the construction business community.
To further support all levels of the construction industry, and to ensure that every resource and opportunity always remains at no cost for individuals and companies, Construction Connection has designed a special construction vendor program. This system helps individuals and business owners in the construction industry purchase supplies for personal and company use. Construction Connection even offers article and banner space for advertising particular products or services, especially those newly introduced to the construction industry.
Current vendor categories include Auto & Fleet, Business & Financial, Continuing Education & Licensing, Safety Specific, Tools of the Trade, Legal, and many more.
Suzanne Breistol, Co-Founder of Construction Connection, explained the vision for the vendor program: "Our goal is to get direct banner advertisers and of course to get people to shop with us to support those vendors, so we can afford to keep the website free. If your target audience is business owners, managers, and those that work in the construction industry, advertising with Construction Connection is the bull's-eye for you to generate business."
Construction Connection was created out of a need for a more effective and streamlined way for construction industry professionals to get matched with the right industry jobs and with the right industry opportunities. The partners of Construction Connection, both industry professionals themselves, listened to both company and individuals' dissatisfaction with the traditional job boards, the paid resume blasts, the overpriced resume services and overall lack of apathy toward the individual candidate. We also listened to the dissatisfaction from companies who post jobs only to get many irrelevant results or having to purchase high priced ads to showcase their company. Construction Connection is a patent-pending, one-of-a-kind profile creating / match-making system. The system delivers effective results. Construction Connection saves you time, money and aggravation by matching:

People to People
People to Companies
Companies to People
Companies to Company
###