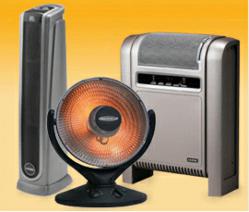 "Today's electric space heaters are marvels of efficiency for added heat or to heat seldom used areas such as guest bedrooms and bathrooms," says Stan Solo
Toluca Lake, CA (PRWEB) October 27, 2011
HeaterStoreOnline.com, the e-commerce site specializing exclusively in space heaters, has increased its inventory for new and recently launched ceramic, oil filled and infrared electric space heaters to help homeowners reduce central heating costs during the fall and winter heating season. As an added incentive to lower heating bills, this premier e-commerce store is offering a 10% discount for online purchases using a special promotional code on the website when you enter it during your checkout.
"Purchasing an electric space heater should not be done by guesswork," says HSOL spokesperson Stan Solo. "Each of the three types of heaters in the special offer has characteristics that make it the 'most suitable' in satisfying a particular heating requirement. We take pride in helping our customers go through the decision process."
For example, home and apartment dwellers with young children in the family are likely candidates for an efficient electric ceramic space heater because it delivers welcoming warmth without getting hot to the touch. Many of HSOL's newest models in the ceramic room heater line oscillate, have fans to deliver radiant heat to a wider area and feature remote temperature control. Some models are equipped with humidifiers and ionizers to make dry winter air healthier. Thermostats, on-off timers and other features are found in the many pole mounted, pedestal, workshop, column, and decorative accent designs available.
Lightweight oil-filled space heaters resemble steam or hot-water radiators and are equipped with wheels for easy moving from room to room. Electric oil-filled radiator heaters are extremely efficient because the mineral oil they contain heats quickly and holds the heat much more efficiently than water. They are equipped with thermostats, timers and other safety devices but because the surface gets hot to the touch they should not be used where unsupervised children are at play. "In households without children this is probably the best source of heat you can have if you want to be efficient and practical," says Stan Solo.
Today's infrared space heaters also come in a wide range of styles and capacities. Heat is supplied by glowing quartz or halogen elements with reflectors to direct the warmth where needed. This popular form of electric space heaters finds wide use throughout the home, garage and workshop. Designs include oscillating dishes, flat panels and fan-equipped models to efficiently direct heat where needed. Wall and ceiling-mounted units are also available at HeaterStoreOnline.com for newly finished basements or attics not reached by central heating systems. Because electric infrared heaters get hot to the touch they should be kept away from flammable materials.
All three types of electric space heaters were separately covered in Ezine articles by John Williamson. They are "Need Heat Fast? Consider the Versatile Ceramic Space Heater," "How Oil-Filled Space Heaters Help Save Money," and "When you Should Consider an Infrared Space Heater."
"Today's electric space heaters are marvels of efficiency for added heat or to heat seldom used areas such as guest bedrooms and bathrooms," says Mr. Solo. "Although they are equipped to automatically turn off if tipped over they should be used with care. We tell our customers to use a GFI outlet when used where water is present and never to use an extension cord with an electric space heater. If more than one is used in a room, separate circuits should be provided. It's also important to select a heater based on the size of the room, which is why we provide an online heater guide to help customers make the correct selection."
To take advantage of HeaterStoreOnline.com 2011 early winter sale special 10% discount for any ceramic, oil-filled or infrared heater on their website simply go to the order page and enter promotional code "earlywinter". This special offer expires on November 30, 2011.
Contact: Stan Solo 1-877 777-3034 or info(at)heaterstoreonline(dot)com.
About HeaterStoreOnline.com
HSOL has provided customers with quality products since 2003 and since day one has been dedicated to selling the highest quality, most efficient, and most affordable space and patio heaters on the market. HeaterStoreOnline.com stands behind all of its products, and has a great team of professionals who are ready to help customers with any of their needs.
# # #