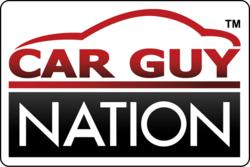 A whole new way of doing business.
White Plains, NY (PRWEB) October 27, 2011
More than 25 million Americans consider themselves to be auto enthusiasts. With the launch of Car Guy Nation, they now have the power to channel that enthusiasm into their own online group buys.
Car Guy Nation (http://www.carguynation.com) was created by hardcore car enthusiasts for hardcore car enthusiasts. Its shopping and promotion platform was built on the premise that large numbers of car enthusiasts buying collectively online represent an economic force to be reckoned with.
Car Guy Nation's proprietary platform is an eCommerce "deal aggregator" that allows either a member or one of a select group of Authorized Vendors to create a group buy deal. "Most other group buying programs are totally vendor-driven," said Roger Garbow, VP/Club Manager of Car Guy Nation. "On our site, we also feature deals conceived and requested by our members, organized through Car Guy Nation's unique 'Request a Group Buy' functionality."
A Group Buy can be for a wide range of car-guy products and services, Garbow said, from wheels and tires and performance parts to garage tools and mobile electronics. Luxury lifestyle items, like VIP experiences, watches and cigars, will also be available.
The goal he said, is to have everything a car guy (or car gal) could possibly want all available online in one spot and then leverage the buying power of groups—car clubs, blogs and forums, and the different associations.
Beyond commerce, Gar Guy Nation will offer enthusiasts a robust social environment for sharing information and opinions. "We're going to let car guys be car guys," Garbow said. "We've even created an addictive new contest that should get passions stirring and debate flying within the diverse groups."
Car Guy Nation chose the nation's largest gathering of automotive enthusiasm — the 2011 SEMA Show in Las Vegas — for their November 1st launch.
###