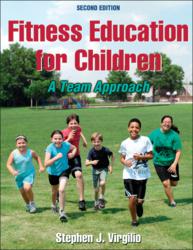 You must motivate children to maintain their interest in physical fitness so they will develop an appreciation for physical activity as a way of life.
Champaign, IL (PRWEB) October 26, 2011
Young children are drawn to physical activity, but according to Stephen Virgilio, author of the new edition of Fitness Education for Children (Human Kinetics, 2011), teachers must provide motivational strategies to keep kids active into adolescence. "You must motivate children to maintain their interest in physical fitness so they will develop an appreciation for physical activity as a way of life," says Virgilio. "Doing all the developmentally appropriate fitness activities in the world will not instill in children positive long-term lifestyle habits."
Starting as early as age 10, children often stop engaging in childhood games and discover new interests that pull them away from play and physical activity. At the same time, parents and teachers convey the message that physical activity must have a purpose and encourage kids to join athletic teams to compete for honors. "Children who are motivated by these adult goals tend to become inactive because they feel incompetent and unsupported," Virgilio says. "We must stop treating 10-year-olds like miniature adult athletes and start letting them develop naturally as children who need to move freely, play, have fun, and express their physical selves."
In Fitness Education for Children, Second Edition, Virgilio offers 10 motivational strategies to help teachers keep children involved in physical activities.
1. Teach basic skills.
These are skills such as jogging and curl-ups. "When teachers take the time to instruct students on proper form and technique, students will assume teachers really care about improving the kids' physical development," says Virgilio.
2. Choose success-oriented activities.
When children feel successful, they'll repeat an activity and gain the confidence to advance to more difficult activities. "To motivate kids, design activities at an appropriate developmental level that includes challenges kids can achieve through practice," Virgilio explains.
3. Have fun, fun, fun.
"Children should laugh, sing, play, and interact while engaged in physical activity," says Virgilio. Children will be more apt to tune in to class objectives when they are having fun and enjoying the lesson.
4. Add creative equipment.
Introduce new and exciting equipment to add spark to classes. "Many times physical educators use the same equipment year in and year out, and children become bored and tired of the same old thing," says Virgilio.
5. Add new activities.
Always be on the lookout for new activities to add to programs, and try incorporating such lessons as Zumba dancing, in-line skating, yoga, or outdoor education.
6. Create a colorful environment.
Decorate the gym with colorful posters, exercise charts, and bulletin boards or have a monthly theme. "For example, February can be Heart-Smart Month," Virgilio explains. "Have students in different grades take turns decorating each month along with their parents."
7. Provide incentives.
Students need support and encouragement for their hard work in class. Occasionally provide children with positive, healthy incentives for active participation.
8. Be a role model.
"Maintain a healthy weight, exercise with your classes, eat healthy foods at lunch, keep nutritious snacks on your desk, and talk to your students about your afterschool activities such as volleyball leagues or jogging," Virgilio says.
9. Accentuate the positive.
Positive reinforcement strengthens existing habits and encourages students' progress. Always use gestures and words of encouragement.
10. Organize a health club.
Designate a health club workout area. Students who join the club can work on their individual goals or participate in a group physical activity of their own choice. "Your job is to plan group activities and help participants plan their individual programs," Virgilio says.
"Participating in regular physical activity is one of the most powerful things people can do for their general health regardless of age," says Virgilio. "Just think how healthy children would be if they started at a very young age on a pathway of lifetime physical activity."
For more information on Fitness Education for Children or other physical activity resources, visit http://www.HumanKinetics.com or call 800-747-4457.