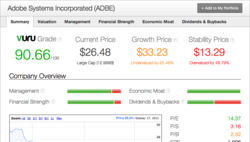 Today, we've made it easier for self-directed investors to leverage complex financial statements by distilling them into clear, transparent analysis that show investors the fundamentals that matter
Montreal, Quebec (PRWEB) October 26, 2011
Vuru, a new web start-up based out of Montreal, has just launched. Vuru has simplified stock market research by making sense of financial reports for the growing number of younger, self-directed investors.
Investors under the age of 40 currently account for 40 percent of the total amount of self-directed investors in North America. After the perceived failure of analysts and banks in the 2008 financial crisis, this new generation of investors has sought to take control of their financial future by researching and purchasing sound investments themselves.
"Today, we've made it easier for self-directed investors to leverage complex financial statements by distilling them into clear, transparent analysis that show investors the fundamentals that matter," said Yoseph West, CEO and Co-Founder of Vuru. "Users find our stock analysis simpler and more efficient with its clean and easy-to-use interface."
Existing online stock research tools provide significant amounts of complex financial and market data. However, investors have to be advanced to understand the meaning behind a particular company's financial statements and its complex metrics.
Vuru is different because it empowers this emerging group of younger, self-directed investors to properly understand the financials and intrinsic value of a company before they invest. With Vuru's stock analysis, these investors can be confident in their investment choices amidst the volatility of the stock market.
Vuru, The Company
Vuru is a website that makes sense of financial reports for self-directed investors. It's an automated analysis engine that does thousands of hours of stock analysis in seconds.
The Vuru tool set features stock analysis, a stock screener and portfolio valuation. All of Vuru's tools are grounded in value investing principles which ensures self-directed investors are investing in undervalued stocks that are fundamentally strong.
Comprehensive Analysis of 5,500+ Stocks - Complex financial statements are distilled into clear, transparent reports that show investors the fundamentals that matter.
Value-Based Stock Screener - Users can find undervalued stocks that have been undeservedly beaten down by the market through various screens based on a company's economic moat, financial health, dividend history and more.
Portfolio Analysis and Valuation - Vuru enables investors to construct an aggregate view of their portfolio through its portfolio valuation tool. Users can instantly recognize the strengths and weaknesses of their holdings based on the combined fundamental strength and valuation of their portfolio.
###