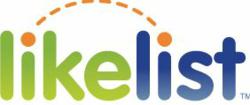 Sunnyvale, CA (PRWEB) October 27, 2011
LikeList, a social-local network where people help each other discover more of the businesses they like and get trusted answers fast, announced today it is sponsoring the national book tour of Aliza Sherman and Danielle Smith's new book Mom Incorporated: A Guide to Business + Baby, a fast selling business book that's the go-to guide about home-based businesses for mothers with a baby or small children. While on tour, Sherman and Smith are 'local blogging' about the businesses they encounter using the LikeList Mobile app that allows them to instantly update their local referrals and recommendations to their base of social network followers.
Sherman is a web pioneer who founded the first woman-owned Internet company, Cybergrrl, Inc. and the first global women's internet organization, Webgrrls International. Sherman is the owner of digital consultancy Mediaegg and author of nine books including The Complete Idiot's Guide to Crowdsourcing, The Everything Blogging Book, and Streetwise Ecommerce. An award-winning television news anchor, Smith is the founder of ExtraordinaryMommy.com and DanielleSmithMedia.com and is a storyteller, video correspondent, spokesperson, and public speaker. Mom, Incorporated is her first book.
The book provides the information moms need to launch a home-based business, starting with coming up with the business idea to finding resources to setting it up to staying on track. To help busy moms find great places to work outside of the home, Sherman created a likelist "Alternative Work Spaces," identifying comfortable places to work with Wi-Fi, good lighting and something to eat. Given Aliza's great reputation among businesswomen and moms, this list is sure to be a valuable resource for working moms looking to find the best places to work locally while on the go.
"As moms, we just don't have the time to sift through reviews from strangers to find the best places to enhance our daily lives or resources to help grow our businesses," said Sherman. "Whether it's finding gluten-free friendly restaurants or alternative workspaces when I'm traveling, LikeList Mobile helps me find what I need fast and helps others do the same by offering trusted lists of great local businesses."
Through the LikeList free online service and LikeList Mobile app, consumers "like" businesses they want to recommend to their friends and others along with tips for why they like them, and the LikeList platform organizes these "likes" into useful, lists. These "likelists" capture first-hand experiences, hidden gems and great local businesses across any consumer category of interest or need from restaurants to contractors to local organic farms to great dance studios. The likelist serves as a person's treasure trove of local knowledge neatly packaged into list form for today's busy need- and want-driven lifestyles. On LikeList.com, users can quickly search and filter the likes and lists of people they know to get answers fast to life's daily challenges, including recommendations from people they know and trust.
"Moms, or anyone seeking to start a new business venture, can use LikeList to quickly create a list around any topic or context such as the best resources for small business owners or best places for kids' birthday parties. Since these lists can be shared with others they offer a new and very useful form of social-local expression and collaboration between people with the same interests, needs or passions. Influencers, bloggers and business owners can build trusted, searchable and extremely valuable local resources with their customers, fans or followers," said Jim Delli Santi, CEO and president of LikeList. "Aliza and Danielle see the value of how LikeList Mobile can help them and other business owners share their local experiences and influence with others in their community anywhere they are, whether it's on the road or at home in their local communities."
The second leg of the Mom, Incorporated book tour dates and locations are:

October 25 – Chicago, IL
October 29 - St. Louis, MO
November 1 - San Diego, CA
November 3 - Mountain View, CA
November 5 - Los Angeles, CA
About LikeList
LikeList is a social-local network where people share lists of local businesses, positive experiences and hidden gems with people they know and trust. With the free LikeList service, users can keep all of the businesses they care about in one convenient place and can easily share referrals to their favorite businesses. LikeList is a platform that works across all social networks, combining the power of referrals and local search with the efficiency of lists. Founded in 2009, LikeList draws from the largest database of local consumer preferences to deliver relevant and trusted local businesses to users in seconds. For more information about LikeList, visit likelist.com.
###