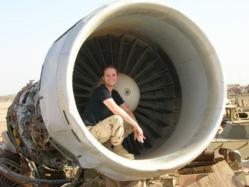 "During my transition from military life I was connected with Swords to Plowshares. I am very grateful for the opportunities I've been given and the help I received from them.
San Francisco, CA (PRWEB) October 26, 2011
Swords to Plowshares 15th Annual Veterans Day Dinner
Profiles of Courage Awards Ceremony
Swords to Plowshares (http://www.stp-sf.org), a non-profit community-based veteran service organization, will be hosting the 15th annual Veterans Day Dinner to honor veterans and build community support.
The Profiles of Courage awards will be given to five veterans who have turned their lives around and shown tremendous courage in the face of adversity. Each story speaks to the full range of services Swords to Plowshares offers and illustrates the success of its nationally recognized programs. This year, 500 community supporters will join together to hear their inspirational stories.
"We pride ourselves on providing a continuum of care to all veterans. Each year the Veterans Day Dinner is our opportunity to share our work with the community and truly honor and support the men and women who sacrificed much for their country," said Michael Blecker, Executive Director of Swords to Plowshares.
What: Swords to Plowshares 15th Annual Veterans Day Dinner, Profiles of Courage
Where: Four Seasons Hotel, 757 Market Street, San Francisco, CA 94103
When: Thursday, November 10, 2011; 5:30 PM
Why: To honor veterans who have made the difficult transition from combat to community
Sponsors: Morrison & Foerster, LLP; Larry and Diane Rosenberger; Wells Fargo & Company; Keker & Van Nest, LLP; Zephyr Real Estate; Snyder, Miller & Orton, LLP
For more information, visit: http://www.swords-to-plowshares.org/veterans-day.
About Swords to Plowshares
Founded in 1974, Swords to Plowshares is a community-based not-for-profit organization that provides counseling and case management, employment and training, housing and legal assistance to homeless and low-income veterans in the San Francisco Bay Area. Swords promotes and protects the rights of veterans through advocacy, public education, and partnerships with local, state and national entities.
War causes wounds and suffering that last beyond the battlefield. Our mission is to heal the wounds, to restore dignity, hope, and self-sufficiency to all veterans in need, and to reduce homelessness and poverty among veterans. Learn more about the work of Swords to Plowshares, and ways in which you can help, by visiting our website at http://www.stp-sf.org
For more information, please contact:
Colleen Corliss, Communications Manager
Office: 415-655-7248; Mobile: 202-415-6101
Email: ccorliss(at)stp-sf(dot)org
###