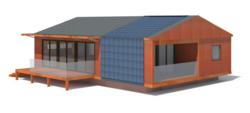 "By seamlessly integrating flush with traditional roofing shingles, CertainTeed is the first major roofing manufacturer to mainstream solar panel energy, taking it out of the niche market" said Brett Moran, Solar Sales Manager CertainTeed Corporation
Oakdale, MN (PRWEB) October 27, 2011
Glenbrook Lumber is now offering EnerGen Solar Photovoltaic Panel Systems to the Minnesota and Western Wisconsin market. CertainTeed's EnerGen Photovoltaic roofing system is a thin-film laminate that lies flush with traditional roofing shingles and is easier to install than traditional panel designs (See Video Click Here: http://youtu.be/PbEFc4cLXIU)
"By seamlessly integrating flush with traditional roofing shingles, CertainTeed is the first major roofing manufacturer to mainstream solar panel energy, taking it out of the niche market" said Brett Moran, Solar Sales Manager CertainTeed Corporation, "EnerGen is specifically designed with building professionals and conventional roofing contractors in mind, offering ease of installation for residential or commercial properties."
"Typical raised panel and steel framed solar systems fall short of integrating into the an architecturally correct building design", said Geoffrey Warner, Founder of Alchemy Architects, "The EnerGen panel solar system lays flat with the roof structure keeping the functionality of our weeHouse designs."
"Glenbrook is excited to offer CertainTeed's solar application as one of the best values for residents in Minnesota and Wisconsin" said Gene Heger, President of Glenbrook Lumber, "Combined with Federal, State and local solar energy rebates of more than 30%, CertainTeed protects the purchaser's investment with a unique multi level warranty covering performance, materials, wind damage and workmanship up to 25 years."
EnerGen systems are available in 14 pre-engineered kits ranging from 1.496 kw to 3.468 kw. Alchemy's weeHouse solar integration designed for Minnesota and Wisconsin is available with consumer design input. With energy costs increasing at 3% to 5% per year, solar rebates exceeding 30% for new purchases and now, CertainTeed's integrated roof system design consumers have a strong reasons to invest in solar energy.
About Alchemy
Alchemy Architects' mission is to make stimulating, engaging, and efficient design accessible and affordable for a wide audience. We are home to the weeHouse, a contemporary, modular, prefabricated structure appropriate for commercial and residential use.
Our distinctive hands-on approach to architecture and design combines a playful design process, collaborative relationships with clients, partnerships with builders and fabricators to create a harmonious blend of site, building, and community. With sustainable practices as a mainstay of our daily work, Alchemy utilizes recycling and reuse along with building strategies that reduce waste. Our multidisciplinary team draws inspiration from art, literature, history, and leading creative thinkers to create alternative and atypical project solutions. Alchemy's innovation on the weeHouse prefab system and "tightwad panache" renovations has gained recognition on an international scale.
Geoffrey Warner
Founder
Alchemy Architects
856 Raymond Ave. Suite G
Saint Paul MN 55114
651-647-6650
info(at)weehouse(dot)com
http://weehouse.com
Http://facebook.com/weehouse
# # #
About Glenbrook Lumber
Glenbrook is a professional building supplier serving residential and commercial building contractors with premier branded products including CertainTeed, Marvin Windows, Andersen Windows, BayerBuilt doors, ThermaTru Doors, Mid Content Cabinetry and Simpson Strong-Tie fasteners. Open to the public we welcome residential customers who are looking for professional advice on do-it-yourself projects. With over 100 alternative deck boards on display, LED deck lighting and deck railings of all types Glenbrook is the Twin Cities deck decision headquarters. We are committed to the use of sustainable building products and lead the industry in residential wood foundations, pre-manufactured wall panels and solar energy.
Carl Wegener
Glenbrook Lumber & Supply
5215 Gershwin Ave N
Oakdale MN 55128
651-770-9071
carlwegener@glenbrooklumber.com
http://www.glenbrooklumber.com
http://www.facebook.com/glenbrooklumber
http://www.youtube.com/user/glenbrooku