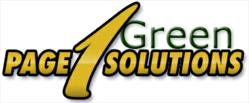 Today, more than ever, people and companies with the resources need to give back. Page 1 lives that belief every day.
Golden, Colorado (PRWEB) October 26, 2011
Page 1 Solutions is proud to announce that they have been selected as one of the 2011 Communitas Award winners for Environmental and Community Leadership. The Communitas Awards recognizes exceptional businesses, organizations and individuals that are unselfishly giving of themselves and their resources, and those that are changing how they do business to benefit their communities.
Page 1 Solutions has always demonstrated a strong dedication to their community and the environment. In 2008, they founded their Green Solutions program. This program was developed to encourage environmental conservation within the company and the community. They have spent much of this time educating their employees to be advocates for conservation and this knowledge has spread into the community and beyond, culminating in the creation of the B2B Green Alliance in 2010. This alliance helps create awareness about green conservation strategies for Page 1 Solutions' clients.
Page 1 Solutions was recently awarded the Gold Leader level in the Colorado Department of Public Health and Environment's Environmental Leadership Program. They have been working towards the Gold level for several years, after being awarded the Silver level in 2010, and the Bronze level in 2009. Over the last few years, Page 1 Solutions has developed strong relationships with various green organizations throughout Colorado and the U.S. They are an EPA Green Power Partner and provide 100% green website and email hosting for their clients through an agreement with Rackspace's "Greenspace Initiative". In addition, through a partnership with the Arbor Day Foundation, Page 1 plants 10 trees and save 1,000 square feet of rain forest for each new website development client.
Internally, Page 1 receives 100% of their energy from a renewable combination of wind and solar. Employees are strongly encouraged to recycle and conserve energy around the office by using ceramic dishware and silverware instead of paper and plastic. Employees are also required to turn off their computers and lights before leaving for the day. Many employees utilize alternate forms of transportation like riding their bikes, carpooling, or using public transit to help lessen their carbon footprint. They even compost food scraps in the bin behind the office.
"I am proud of the efforts of the entire Page 1 staff to protect the environment and serve our community," said Dan Goldstein, Page 1's President. "Today, more than ever, people and companies with the resources need to give back. Page 1 lives that belief every day."
About Page 1 Solutions
Page 1 Solutions, LLC, is an Internet marketing company that specializes in search engine optimization and website design for attorneys, dentists, ophthalmologists and cosmetic surgeons. In addition to offering a wide variety of services, the company also advocates green and eco-friendly energy use and conservation. Page 1's Green Solutions program continues to use education to promote these methodologies within the company, community, and industry.
###