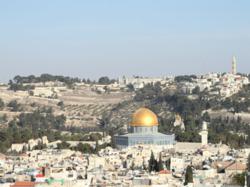 I came home with a grasp of both the philosophy and application of Israeli counterterrorism practices - beyond all expectations.
Canoga Park, California (PRWEB) October 27, 2011
Chameleon Associates, a security and counter terrorism consultancy, has for the last seven years hosted an international group of security, counter terrorism, military, intelligence and law enforcement personnel in Israel to meet with top security and government officials responsible for protecting some of the highest profile targets in the world. The Behind the Scenes of Israel's Counter Terrorism and Security Operations seminar is organized by Chameleon experts, who arrange special access and insight into Israel's counter-terrorism and security apparatus. Central to the seminar agenda is securing critical infrastructure, protecting open environments, airport security, the role of technology, civilian preparedness and - finding practical solutions for attendees to take back home. For both corporate and government agencies large and small, these innovative security methods provide a much needed boost to their security efforts.
According to Chameleon's Managing Partner, Amotz Brandes, open societies are an attractive target for terrorists. While knowing how to react to an attack, and manage the aftermath is important, one simply cannot afford missed opportunities to catch terrorists early in the cycle, and prevent the attack in the first place. He explains that seminar participants learn how to recognize and act upon the predictive behaviors of terrorists and apply such tools to virtually any environment.

The Ben Gurion International Airport
Predictive Profiling & Security Engineering
K-9 Explosive Detection Unit
Israel Border Security
The Israeli Parliament
Temple Mount and The Wailing Wall
Security at Israel's Water Resources
Emergency Response Teams
Israeli Security Technology Showcase
Mabat 2000 Police HQ in Jerusalem
Retail Mall Security
Port of Haifa - Securing Israeli Seaports
Discussion with Suicide Bombing Survivor
Demonstration of Israeli Shooting Techniques
The Palestinian-Israeli Security Fence
Mass Casualty Situations
Meetings with Counter-Terrorism Experts
The seminar is unusual in the access it affords participants to people, locations and methods that are generally off limits. It is co-sponsored by the Government of Israel Economic Mission in Los Angeles and the Israel Export and International Cooperation Institute.
Past attendees (see Testimonials attachment) say that even for those who have toured in Israel before - the experience is truly unique. But it's not all business. The nonstop agenda is balanced with five-star accommodations, superb cuisine and tourist site excursions.
The next Behind the Scenes seminar will take place February 18-25, 2012.
About Chameleon Associates
Drawing on international expertise and decades of counter terrorism experience, Chameleon Associates has been dedicated to providing quality training and consulting services to the security sector, for over a decade. Our solutions help organizations gain the maximum value from their security resources, by integrating human and technological factors into a threat-oriented system. Our clients include Fortune 500 and 100 companies, law enforcement and governmental agencies across the globe.
###