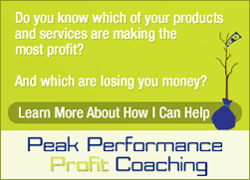 We help businesses grow their bottom line. Who in business doesn't want to make more profit?
Minneapolis, MN (PRWEB) October 26, 2011
Small businesses need to understand finance to be successful, yet many owners would rather face an invading barbarian horde than dig into the numbers side of business. Peak Performance Profit Coaching, the new service offered by Small Business Finance Forum, will assist entrepreneurs in overcoming their fear of finance and have fun doing it.
The new profit coaching services offer small business owners and solopreneurs the chance to work one on one with finance expert Nicole Fende. Nicole is the President of Small Business Finance Forum as well as being an Associate in the Society of Actuaries. As she says, "I am The Numbers Whisperer (TM) and I specialize in taming unruly profits." Nicole draws on her worldwide experience in companies large and small to help businesspeople overcome their fear while making finance fun. "I help them laugh out loud while they're leaning ways to make their business more profitable."
Fun and Figures Brought Together
Peak Performance Profit Coaching sprang from helping entrepreneurs and small business owners who came to her with questions. Nicole helped them take control of the numbers and their businesses. As they returned to her with success stories and reports that finance wasn't as bad as they feared and was even fun with her help, she began to form a plan. Nicole recalls, "I realized that there was a need for a coach who could help people grow their profits, understand their finances and make it fun – not scary."
A Big Misunderstanding
Before she could advance the battle on finance fear, she had to face another formidable foe: a deep misunderstanding of the basic nature of business finance and its purpose. "Finance is a lot more than just recording numbers on a piece of paper," Nicole says. She saw she could help business owners realize the power and the value in understanding the total financial picture. To do that, she had to change tactics, specifically the terms she used when talking about numbers, finance and profit. "When I was talking about finance, people thought I was talking about accounting or raising money and they thought it wasn't relevant to them," she remembers.
The Number Whisperer Chooses Her Words
As she considered the situation, Nicole had an insight, "I realized that little ol' me couldn't change the world overnight to realize that finance doesn't just equal accounting," she says. "So, I changed how I approached it." She knew that business owners would be interested in more profit. As she considered different options she realized something simple would be most effective, and settled on the term profit coaching. As she asks, "Who in business doesn't want to make more profit?"
About Small Business Finance Forum
Small Business Finance Forum LLC was found by Nicole Fende, A.S.A. in 2010. Their mission is simple, grow their client's profits. They offer tools and tips to reduce expenses, manage cash flow, and grow the bottom line. You can visit them online at http://www.SmallBusinessFinanceForum.com to access their easy, practical finance solutions for small business served up with a side of humor.
# # #