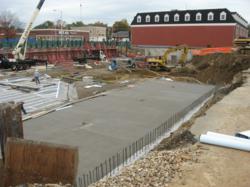 "Construction monitoring and engineering services are among the many services we offer clients. With this engagement, as with others, we tailor services to meet the specific needs of each client." Jenny Netzer
TCAM Chief Executive Officer
Boston, MA (PRWEB) October 25, 2011
TCAM has been retained by a national real estate firm to provide construction and engineering review and monitoring services for its growing portfolio. TCAM's services include reviewing construction reports, draw requests, performing inspections, and providing recommendations on change orders and other construction issues. TCAM is also providing pre-construction due diligence services, including review and recommendations with respect to surveys, entitlements, design and construction schedules and plans. TCAM's client owns and develops affordable and market-rate multifamily property, as well as other commercial real estate.
This engagement is the most recent assignment for TCAM from an owner and developer. TCAM is currently providing construction and asset management and advisory services for other owners as well as banks, insurance companies, corporations and state and local housing agencies. "Construction monitoring and engineering services are among the many services we offer clients," said TCAM Chief Executive Officer Jenny Netzer. "With this engagement, as with others, we tailor services to meet the specific needs of each client."
R.J. Finlay & Co. - http://www.rjfinlayco.com – is a holding company of diverse businesses and investments with a central focus on real estate. Founded by Robert Finlay, R.J. Finlay & Co.'s portfolio spans 12 companies and includes nearly 300 employees throughout the United States. TCAM - http://www.tcamre.com - is a leading investment manager, providing services for more than 60,000 apartment units across the U.S. TCAM's services include comprehensive asset management, portfolio management and advisory services.
###