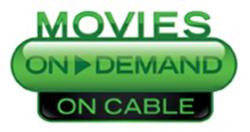 Fans can answer questions like, 'What are your Top 5 Johnny Depp movies, romantic comedies and superhero movies?'
National Harbor, MD (PRWEB) October 26, 2011
Movie lovers can now be "film critics" when they use the latest Facebook app from Movies on Demand® On Cable at facebook.com/moviesondemand.
Through "List It!" – a new application launched in support of Movies On Demand® On Cable – movie fans can answer questions like, "What are your Top 5 Johnny Depp movies, romantic comedies and superhero movies?" The app is a fun, interactive way to share movie opinions with friends and also get a chance to win movie rentals or a 46" 3DTV.
Users are encouraged to create Top 5 lists inspired by a different Movies On Demand (MOD) new release each week. Each new list entry is automatically entered into a sweepstakes for a chance to win daily prizes ($5 in Cable Cash good toward an MOD rental) and the grand prize of a 46" 3DTV. The app includes lists from critics such as Leonard Maltin – whose favorite Johnny Depp movie is Don Juan DeMarco – and the ability to see lists created by users' friends.
"List It!" is a complement to the year-long 2011 MOD marketing campaign supported by the top U.S. cable companies and ten major movie studios. The MOD campaign features hit movie titles, many of which are available on MOD the same day as on DVD, reminding consumers that MOD is the simplest and best way to rent movies.
The MOD Facebook page, and the new "List It!" app, as well as the http://www.rentmoviesondemand.com website, is created and managed by iN DEMAND, the nation's leading distributor of Movies On Demand to cable. The site is the central source for listings, reviews, orderings info and a personalized "WatchList." iN DEMAND also populates @moviesondemand on Twitter.
For Media Inquires Contact:
Jason D. King, ABC
CTAM
Director of Communications & Media Relations
301.485.8914
Jason(at)ctam(dot)com
Ellen M. Cooper
iN DEMAND
VP, Corporate & Affiliate Communications
646.638.8206
ecooper(at)Indemand(dot)com
The Movies on Demand® initiative is an integrated marketing campaign made possible by the Cable &Telecommunications Association for Marketing (CTAM) Marketing Co-op. The cable companies include Atlantic Broadband, Armstrong, BendBroadband, Bright House Networks, Charter, Comcast, Cox Communications, Insight, iO TV, Mediacom, Suddenlink and Time Warner Cable. The studios include 20th Century Fox, Image Entertainment, Lionsgate, NBC Universal, Paramount, Relativity, Sony/Columbia, Summit Entertainment, The Walt Disney Studios and Warner Bros. Entertainment, Inc. The CTAM corporate website is http://www.ctam.com.
# # #