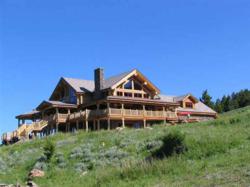 Life Wide Open
Bozeman, Montana (PRWEB) October 29, 2011
In what can be described as a recovering market for Bozeman real estate, PureWest – Christie's recently closed the sale of a trophy mountain home just 15 minutes from Bozeman. Listed at $2.99 million. Jackie Miller, listing agent stated that this sale clearly represents one of the highest priced transactions in the area since early 2010 and portends a recovering market.
Jackie Miller added that there has recently been renewed interest and activity in the luxury property market in Southwest Montana. PureWest – Christie's agents represent numerous multi-million dollar listings in Big Sky real estate and the Madison, Gallatin, Paradise and Shields Valleys. Jackie Miller acknowledged that PureWest agents have seen a pick-up in buyer interest and have been actively showing these trophy properties. For example, PureWest – Christie's recently represented a buyer of a property in the exclusive Yellowstone Club that closed at over $5 million as well as a single buyer purchasing property west of Bozeman, MT for over $5 million.
PureWest – Christie's recently published a Coffee Table Book featuring over 100 premium listings in Southwest Montana and PureWest agents have been actively showing trophy properties to out of state and foreign buyers. Other Bozeman area properties include:
About the company: The addition of the Paradise Valley office is an important step for PureWest – Christie's. Established in October 2009 as the premier luxury real estate company in Big Sky, the Bozeman office was added in June 2010. Often requiring interstate or even international correspondence and experience, the listing and sale of premium primary and second homes can be handled by the select few. PureWest - Christie's real estate agents have the experience and understanding to execute such sales. For more information regarding premium Montana real estate, please visit http://www.purewestproperties.com or call (406) 586-9418 to speak with an agent.
###