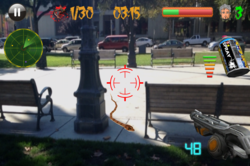 Creepy Crawlies has received 85 reviews, roughly 90% being 4 stars or higher, giving the app an overall 4.5 out of 5 stars.
Sunnyvale, Calif. (PRWEB) October 28, 2011
Creepy Crawlies, a new app available now for the iPhone, iPad and iPod Touch from the creator Sina Bazargan-Lari, is setting a new benchmark as to what is possible with augmented reality in gaming. The app provides an immersive environment, fast-paced graphics and a haunting soundtrack in which the player is surrounded 360 degrees by creatures looking for blood. Swing your iPad to the left to kill the roach that's approaching, or tilt your iPhone down to kill the snake at your feet, Creepy crawlies is not a game played sitting down - it requires moving not only your thumbs, but your entire body. This game is setting the stage to where all future gaming must head to! The high level of immersive thrills and scares in this game makes it a perfect fit for this Halloween.
How it works
Creepy Crawlies is different from most games available on Apple's App Store. Using the device's camera, gyroscope, and compass, this game propels the player into an augmented world of non-stop action. Players get to witness 3 dimensional creatures in the X, Y, and Z planar axis, with respect to their parallax and perspective. In other words, the player can move the device around to see and attack creatures such as a snake, cockroach or mosquito, heading from afar toward the user as if it is happening in the real world. This is not a game to be played sitting down! The player will also encounter enemies like rats, fire-ants, tarantula spiders, poisonous dart frogs, centipedes and more. This pulse-raising app combines reality with gaming and ties it together with a terrifying soundtrack to increase the gaming intensity!
Reviews
Within the first month on the App Store, Creepy Crawlies has received 85 reviews, roughly 90% being 4 stars or higher, giving the app an overall 4.5 out of 5 stars. Common themes from the received reviews include: fun and addictive, entertaining, challenging and a great augmented reality implementation. These reviews indicate that players are ready for this new, innovative style of game play and fully approve of its style of gameplay.
Minimum Requirements
Due to the heavy number crunching needed to implement augmented reality, Creepy Crawlies will only work on the following devices, using iOS4 and the new iOS5:

iPhone 4S
iPhone 4
iPad2
iPod Touch 4th Generation
The app is available for 99 cents and is available worldwide. The iTunes link to the game is as follows:
http://itunes.apple.com/us/app/creepy-crawlies/id465049412?mt=8
For a video trailer of the game, please visit: http://www.youtube.com/watch?v=QK3k5U2BjiQ
More snapshots of the game can be found at http://sinabl.com/cc.
For more information please contact: Sina(at)SinaBL(dot)com.
# # #