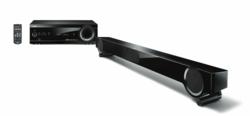 "It's ideal for a small, multi-use family room where everyone wants to get the most out of movies, music, games and other activities," said Tom Sumner, president, Yamaha Electronics Corporation.
Buena Park, Calif. (PRWEB) October 26, 2011
When Yamaha created the soundbar category in 2005, one of the goals was very simple, but challenging to develop: provide high quality, room filling virtual surround sound from a small, streamlined, conveniently placed package.
Yamaha has now raised the bar to an even higher level in performance, design and flexibility with the introduction of its YHT-S401, a uniquely-styled system that provides expansive, virtual 7.1 surround sound from two compact, easy-to-place components.
The YHT-S401 consists of an ultra-slim soundbar featuring powerful dual 50W full range speakers at each end, with an integrated 50W center channel speaker that provides exceptionally clear dialogue for greater home theater entertainment. This sound bar is perfectly matched with a cleverly designed 100W subwoofer-integrated receiver that can be oriented either horizontally or vertically for convenient placement. The end result is an extremely versatile system that delivers crisp, lifelike surround sound with room-rattling bass that adds tremendous impact to the overall enjoyment of home theater.
"Many of our customers desire the full multi speaker, multichannel sound experience but simply don't have the room to accommodate the extra speakers and subwoofer, and the YHT-S401 more than answers this call," said Tom Sumner, president, Yamaha Electronics Corporation. "Our system offers simple, unique style in a high performance package that affords many placement options. It's ideal for a small, multi-use family room where everyone wants to get the most out of movies, music, games and other activities."
A luxurious mirror black finish and gently curving design define the overall YHT-S401 system, matching flat-screen TVs and adding a sophisticated elegance to any decor.
The YHT-S401 system's surround sound bar has adjustable stands that rotate to ensure the exact height is achieved for placement in front of virtually any TV. The stands can also be removed for wall mounting.
Room filling virtual 7.1 surround sound is achieved through the company's proprietary AIR SURROUND XTREME, which provides amazing clarity and sound imaging unlike any other soundbar system.
Six surround modes—Movie, Music, Sports, Game, TV Program and Standard—make it easy for the user to find a listening experience best suited for any type of entertainment content. Yamaha's Clear Voice feature makes dialog and narration easier to hear, enhanced further by the oval center channel speaker which ensures natural sound reproduction with low listening fatigue.
The YHT-S401 offers compatibility with many sources: HDMI (3 in/1 out) supporting 1080p resolution, 3D Video, ARC (Audio Return Channel) and HD Audio formats. A headphone jack enables consumers to enjoy virtual 7.1-channel surround sound from headphones.
For even further enjoyment of music sources, the YHT-S401 also includes a built-in FM tuner and a Digital USB connection for iPod/iPhone, which enables these devices to be transmitted directly, minimizing interference and maximizing sound.
Yamaha proprietary Music Enhancer technology makes compressed music files (MP3 and AAC, for example) sound much more rich, detailed and realistic.
The YHT-S401 (MSRP of $699.95), includes an updated remote control featuring enhanced design and functionality, and is currently available at retail.
For more information, write Yamaha Electronics Corporation, P.O. Box 6660, Buena Park, CA 90620; call (714) 522-9105 or visit http://4wrd.it/HOMETHEATER.
About Yamaha
Yamaha Electronics Corporation (YEC), USA, based in Buena Park, California, is a wholly owned subsidiary of Yamaha Corporation of America. YEC offers industry-leading home theater components and systems, featuring A/V receivers, amplifiers, Blu-ray/CD players, speakers, desktop iPod speaker systems, home-theater-in-a-box (HTiB) pre-matched systems and the company's exclusive Digital Sound Projectors single component surround sound solutions.
# # #