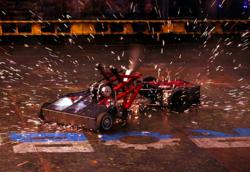 San Francisco, CA (PRWEB) October 26, 2011
Teams from all over the US, Canada and Brazil will be coming to California this weekend to fight for The ComBots Cup - the annual international robot combat championship, now in its sixth year. The ComBots Cup is to fighting robots what the World Series is to baseball. The two-day event features robots weighing up to 220 pounds fighting to be crowned king of the robots. While the recent movie "Real Steel" thrills audiences with CGI robots, the ComBots Cup promises the real thing.
At stake for competitors is not just honor and glory, but the ComBots Cup itself, a 100lb, three-foot-high trophy that comes with the biggest cash prize purse in the sport. As seen on Discovery Science Channel's "Killer Robots: RoboGames 2011" hosted by MythBuster Grant Imahara, robot combat is enjoying a renaissance due to the burgeoning DIY culture in the US and beyond.
Simone Davalos, ComBots Cup organizer and head referee looks forward to the event every year - and not just for the robots. "What encourages us to keep doing this year after year is the crowd - a heaving morass of seething humanity of all ages and stations, frantically screaming for really loud and exciting applied physics and engineering." Davalos added that robot combat is one of the best ways she can think of to get kids and adults alike interested in science, technology and engineering. "There's something that makes fighting robots more accessible than drag racing or other motor sports. You learn very quickly about electronics, mechanical engineering, math and all around skills that carry over to school, work and life. Plus the payoff is definitely explosive!"
Gary Gin, two-time winner and defending ComBots Cup champion with his bot "Original Sin" is looking to keep his title at ComBots Cup 6. "Last year we won, but it was pretty close at the end. So this year I want come back and not leave any doubt about who's boss in the arena."
Although Gary has taken home the Cup the last two years, he didn't fare so well during this April's RoboGames, finishing fourth. Crowd favorite "Sewer Snake" of Team Plumb Crazy are coming into the Cup with the year's best record (undefeated) with Team Hardcore's "Last Rites" a close second. Up-and-coming Piedmont High School is looking to make a name for themselves with their student built 's "Ragin' Scotsman."
The newest additions to the ComBots Cup field of contestants are the robotic juggernaut from Brazil, Team RioBotz. Longtime competitors at The International RoboGames, RioBotz is showing up for their maiden ComBots Cup voyage, and well wishers from all over Brazil and around the globe have been offering their good wishes for RioBotz' success.
"We're looking forward to The ComBots Cup! We will do well there, and make Brazil proud," said RioBotz leader Marco "Meggi" Meggiolaro. "We will show that Brazilian technology is among the best in the world." Brazilian teams are well known for winning medals at RoboGames, and for their spirited participation and crowd-pleasing raucous victory celebrations after matches.
In addition to Brazil, Canadian team CM Robotics returns strong with "Son of Ziggy," the popular, powerful heavyweight pneumatic flipper. Their previous robot "Ziggy" is best known for the 2010 robot vs. human kickoff contest against Joe Nedney, former place kicker for the San Francisco Forty Niners. Canadian companies have also taken notice of the robot combat revolution. Canadian firm Fingertech Robotics recently signed a 2-year sponsorship deal to sponsor the smaller robot combat classes.
Spectators at past ComBots Cup roundly agree that robot combat, while fun to watch on television, is an order of magnitude more fun live and in person. "The big robots are great," says Alex Price, 12, of San Rafael, California "I like hearing the crashes and seeing the flames up close!".
This year's ComBots Cup takes place October 29-30th, 2011 at the San Mateo County Event Center in the Silicon Valley. Tickets are available at http://www.combots.net. Details on all the heavyweight contestants, along with print-ready photographs can be found at http://combots.net/cup2011
ComBots LLC has been holding robot combat tournaments since 2004, and The ComBots Cup since 2006. ComBots LLC is dedicated to providing the best and biggest in public and private robotic events for the general public, schools, and corporations. Past clients include VMware, Sony, Google, Ask Jeeves, Genentech and O'Reilly Publishing. ComBots is a co-producer of The International RoboGames, the world's largest open robot event, next held April 20-22nd, 2012.
Contact: Simone Davalos
Simone(at)combots(dot)net
http://www.combots.net
415.307.3482
High resolution press-ready images available at http://combots.net/pix.php
Videos available at: http://combots.net/videos
###