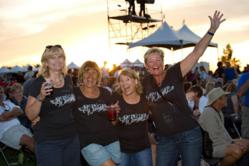 San Tan Valley, AZ (PRWEB) October 26, 2011
Now in its second season, The Good Life Festival at Encanterra continues to bring great live music and delicious food and beverages on the breathtaking grounds of Encanterra Country Club, for Valley residents and visitors to enjoy.
"We're approaching The Good Life Festival a little differently this season," said Hal Looney, Arizona area president for Shea Homes Active Lifestyle Communities. "We're offering five performances as part of The Good Life Festival Series events, which feature live acts from regional artists, while also taking the Valley by storm with larger, national acts as part of The Good Life Festival events that will unfold throughout the fall, winter, and into next spring."
As the second event in the Series so far this season, Encanterra is pleased to host a live performance from Hotel California, an Eagles tribute band, on Saturday, November 19, from 1 p.m. to 5 p.m., with music starting at 2:30 p.m. Concert goers are invited to soak up the sunshine while singing along to The Eagle's classic rock mega hits like "Take it Easy" and "Heartache Tonight."
Food and beverages will be available for sale and guests can dine at Encanterra's Bistro 1528 before or after the show with a reservation. Concert tickets include three two-ounce complimentary beer tastings for guests 21-years of age and older, which will be offered from 1 p.m. to 3 p.m. Tickets for $30 are available on http://www.TheGoodLifeFest.com. Encanterra will make chairs and other seating options available; no outside chairs or blankets will be permitted.
THE GOOD LIFE FESTIVAL:
Experience the "good life" in a whole new way at The Good Life Festival and Festival Series. The main Festival events are hosted at Encanterra Country Club in San Tan Valley, AZ, while the Series events take place at Encanterra, Trilogy at Monarch Dunes (Nipomo, CA), and Trilogy at The Vineyards (Brentwood, CA). These public festivals consists of concerts, including local and national acts on outdoor stages, and a variety of activities, which may include specialty shopping, wine tasting, spa and golf demonstrations and gourmet food. For the latest information about the festival, visit http://www.TheGoodLifeFest.com or call (800) 685-6494.
ABOUT ENCANTERRA
Encanterra Country Club is a 745-acre gated residential community located in San Tan Valley with new homes for sale. This all-ages resort community recently debuted Trilogy at Encanterra, an age-qualified neighborhood within the community. Encanterra's architectural elements center on Old World charm and authenticity with New World design and technology. Life at Encanterra revolves around the 60,000-square-foot stunning private club, La Casa, and a private, Tom Lehman signature designed 18-hole championship golf course. All homeowners at Encanterra Country Club and Trilogy at Encanterra have social membership privileges at La Casa. For more information about Encanterra Country Club visit Encanterra.com.
ABOUT TRILOGY BY SHEA HOMES ACTIVE LIFESTYLE COMMUNITIES
Trilogy communities are high-end resort communities offering a new choice in living to those looking for an exciting lifestyle that revolves around wellness, exploration, continued learning, and close personal connections. Architecturally superior product design and amenities reflect the changing needs of the baby boom generation, including business services, world-class clubs, state-of-the-art fitness facilities and a diverse range of recreation and education opportunities. Trilogy is committed to addressing boomers' growing concern about our environment and energy usage, and now offers Shea Green Certified® homes across its portfolio, delivering substantial energy savings to home owners while reducing each home's carbon footprint by up to 48 percent. More information is available by visiting http://www.TrilogyLife.com or calling (800) 685-6494.
# # #