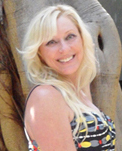 It's your choice what your brain indulges, at every given moment, always.
Redondo Beach, Calif. (PRWEB) October 30, 2011
Angie Anderson has just released her first book, 101 Ways to Bliss: Quick & Easy Tips for Leading a Joyous Life! In honor of this auspicious event, she has agreed to share some of her most salient tips for a healthy mind.
1. BRING ON THE DRAMA! - Some of the more common brain creepy crawlies are excessive worry, anxiety and depression. If you are suffering to a great extent then it is incumbent on you to reach out for professional health. That being said, many of us suffer quietly with a low-grade version of one of these issues and this is what I'm speaking to today. Wrangle those creepy thoughts and concerns, get a good long look at them, so you know what you're working with, and then turn the tables! For example - If you suffer from anxiety every time you drive in traffic, rather than being victimized by your own thoughts, take control of them and morph them into something absurdly fun! While sitting stuck in traffic, start bouncing around in your seat, while singing at the top of your lungs - "I'm anxious, I'm anxious, I'm koo-koo, I'm nutty, I'm funny, this is fun, whoo-hooty, whoo-hooty!" or perhaps try on your inner Woody Allen - "Oh for the love of Gawd! I'll never make it! What in the world have I done to deserve this!? I am but a shell of a man, because of this, this, this tr-a-ffic!" Do whatever it takes to shake things up a bit. It's a very good way to release the pressure valve and get perspective. Don't knock it till you try it!
2. HARBOR NO FUGITIVES - We are all victims of mental creepy crawlies, it's what we do with them that makes the difference. Some people befriend their nasty little mind monsters, because they feel a sort of kinship to them, simply because they're familiar. This is a mistake; It's like hosting open house for all the neighbors on your block who you really don't like, or trust. It's your choice what your brain indulges, at every given moment, always. So next time you have one of these little creeps (negative thoughts) trolling around your mental space, give them a quick kick in the butt or kill them with kindness (positive thoughts) and you will be free at last!
3. GIVE THEM A PIECE OF YOUR MIND! - Today, choose one person who is impacting you and let them have it! Have what? A taste of honesty. Now this can be anything from, telling someone who has gone above and beyond the call of duty to make your life better, just how much you appreciate them, to finally telling your neighbor you'd really appreciate it if they would clean up after their dog when he leaves a gift on your lawn. I'm not suggesting you go on an ass kicking campaign, simply that you find your voice enough that you are able to be assertive, without being aggressive, in order to share yourself more honestly with the people in your life. Why? Because your life will be more authentic and enjoyable once you learn to share the important stuff in your mind and heart.
4. TRUST YOURSELF - Try one full week of making decisions for yourself based on your own wisdom and knowledge. Unfortunately, many of us were taught as kids to defer to others for big decisions, while appropriate for a child in most instances, not so appropriate for an adult. The problem is, through the years we get used to deferring to others and lose sight of the fact that we are wholly capable adults. So open up your mind, let your opinions out to play and dust off your critical thinking muscle. You may be quite surprised at how empowering this exercise will be - It will boost your self-esteem exponentially as you continue on. Godspeed.
5. LAUGH IT OFF! - Whether you are dealing with minor worries, aches & pains, financial woes or even much heavier issues, finding even the tiniest shred of humor in your current situation will always serve you well. This doesn't mean the issue doesn't need to be dealt with, honored and validated; it simply means, in the times that you are forced to cope with a less than agreeable situation, allow your mind and heart to indulge the silliness, pettiness or outright ironic absurdity of your current circumstances. And always keep in mind - This too shall pass.
For more information about Angie Anderson and 101 Ways to Bliss!, visit http://www.101WaysToBliss.com
###