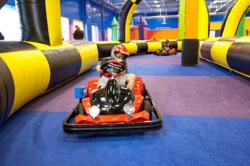 Party Fantasy will create memories for a lifetime, every time you visit!
Mundelein, IL (PRWEB) October 27, 2011
Party Fantasy, a new family entertainment center in Mundelein, exuberantly opened its doors to the public on Wednesday October 19th. Party Fantasy offers Mundelein and surrounding communities a facility where the whole family can relax and enjoy family fun together in a vivid environment.
Adi Mor, the founder and CEO of Party Fantasy, who is also the CEO and founder of Garden Fresh Market, has always been a family man. A wonderful father to eight children, Adi was astounded when the Chief of Police of Mundelein, Chief Ray Rose, remarked that there were no places in the Village for kids to hang out at after school hours.
In 2007, Garden Fresh Market moved to its new location at 400 Townline Road, leaving a vacant warehouse at 342 Townline Road. After a meeting with Chief Rose and considering the potential of the blank canvas that existed, Adi developed a vision for what he would do with the empty space.
"Party Fantasy!" his eight-year-old son exclaimed as Adi told his wife and kids about the idea he had in mind. The name stuck, serving as the inspiration behind the process of turning his vision into a reality.
True to his word, Adi created the supreme entertainment facility for children to have safe, wholesome fun. The facility includes more than 15 inflatable bouncers and mazes, go-karts that can zoom around an inflatable track, an arcade with redeemable prizes, a climbing wall, a full stage and dance floor, eight color-themed party rooms, a pizza café, free Wi-Fi, a parents' lounge and a toddler area with age appropriate toys. The recreational area is decorated with brilliantly colored walls, which perfectly create the ultimate fantasy for any child's birthday celebration, sports party, school field trip or a thrilling day off with friends!
Adi and the rest of the Party Fantasy team hope that the community of Mundelein and the surrounding areas take pleasure in this family-oriented venue that he has put his time and heart into over the past year.
Shoshy Mor, General Manager for Party Fantasy stated: "Parents can take children there to enjoy the day and relax knowing that their children are in a fun, clean and safe environment. Party Fantasy will create memories for a lifetime, every time you visit! Not to mention, the prices are out of this world!"
For more information about Party Fantasy, please visit their website at http://www.partyfantasy.net.
Party Fantasy is located at 342 Townline Road, Mundelein, Illinois 60060, on the corner of Route 60 and Route 45, just west of the Garden Fresh Market.
# # #