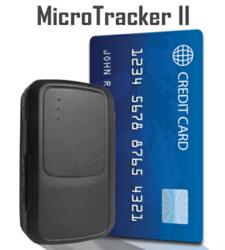 The MicroTracker II is simply the smallest, most versatile GPS tracker available.
Scottsdale, Arizona (PRWEB) October 28, 2011
GPS Intelligence, LLC, a leading provider of GPS tracking systems, announces the release of the MicroTracker II GPS tracker to the public. Already, the MicroTracker II is becoming one of the most sought-after GPS tracking devices on the market, helping consumers to monitor assets, vehicles, and loved ones - anything of value that may become lost or stolen.
"The MicroTracker II is unique because it's not only the smallest GPS tracker available, it's capable of tracking in any environment, for longer periods of time, and in areas where GPS signals may be obstructed," said Brian Arrowood, National Sales Manager at GPS Intelligence. "It's available in white, or a black design for stealthier applications. When combined with its advanced GPS tracking features, the MicroTracker II is simply the most versatile personal and asset tracking device on the market today."
The MicroTracker II is small enough to drop in a purse, attach to a belt, or slip into any backpack, briefcase or computer bag. Weighing in at a mere 2.12 ounces, this powerful tracking and monitoring device can go along with anyone, just about anywhere. Parents can ensure that children arrive safely to school, after-school programs or sporting events. Monitor the location of loved ones when they go camping, hiking, or on cross-town or out-of-town trips. The MicroTracker II is capable of pinpointing locations in dense urban areas and rural or mountainous areas alike.
Because the MicroTracker II is a portable tracking device, it can go straight from a briefcase to the glove box, providing vehicle tracking and anti-theft security for any type of vehicle. When activated, a motion alert will notify users if the vehicle begins to move, alleviating any unauthorized use. If a vehicle does wander away, it can be tracked down within seconds using live tracking, down to 5 second intervals.
Business owners use the MicroTracker II to monitor high dollar assets like inventory, vehicles and even valuables during shipment, securely tracking them to their destinations. Monitoring company executives to and from high-profile meetings and events, adds an additional level of security, with worldwide coverage available for international travel.
State-of-the-art technology and heightened sensitivity allows the MicroTracker II to locate itself indoors, within enclosed areas, and other places where assets can be located, but where standard GPS tracking devices may fail to locate them. With the added security of cell tower triangulation, the MicroTracker II calculates a secondary location using cell tower ID data independent of GPS signals, providing reliable tracking anywhere.
Tracking is easy with the MicroTracker II. The state-of-the-art Coverttrack© Online Tracking Center provides aerial mapping to track the location of any person or asset, providing the address, direction of movement and much more. This heavy-hitting application requires no software installation and can be accessed on any PC or pda-style cell phone, with tracking plans available for every budget and unique application. All MicroTracker II owners receive professional technical support with activation of any GPS Intelligence tracking plan.
MicroTracker II Features:
Locate Now – Identifies exact location in the absence of clear GPS signal or when the device is not moving
Motion Alerts – Sends email or SMS alert when a device begins moving
Geo-Fence boundary alerts – Set up boundary alerts to receive notification when the device enters or exits designated boundaries
Battery Condition – Identifies battery charge level and provides notification when level becomes low
Address & Stop Reports – View or download historical locations where device has travelled
2D, 3D, Aerial and Birdseye Views – Choose a mapping view that best fits the tracking requirements
Panic Button – Press the panic button in emergency situations where help is needed
Miniature Size – Device measures 2.5" x 1.5" x .75"
For more information or to purchase a MicroTracker II, contact Kirk Waltz at (480) 661-1916 or Kirk(at)gpsintel(dot)com.
About GPS Intelligence, LLC
Founded in 2006 in Scottsdale, Arizona, GPS Intelligence, LLC is a LBS (Location-Based Service) company specializing in GPS tracking solutions for law enforcement, government, and commercial applications. Product Divisions include Asset Tracking, Vehicle & Fleet Tracking, and CovertTrack©, a division providing GPS tracking solutions for government and law enforcement agencies worldwide. For more information visit http://www.gpsintel.com.
Media Contact:
Marci Utakis
480-661-1916
advertising(at)gpsintel(dot)com
# # #