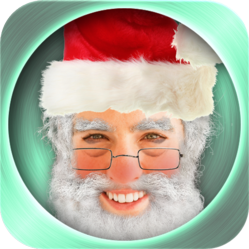 Anaheim, CA (PRWEB) October 26, 2011
New mobile app start up Analog Nest is proud to announce the release of its debut title Santa Booth, a charmingly hilarious face manipulation app for iPhone and iPod touch devices. The app is now available for download on iTunes for $0.99 along with a free version. Santa Booth realistically transforms one's face into 1 of 4 Christmas characters: Santa Claus, Mrs. Claus, Elf, and a Reindeer. Side effects may increase cravings for milk and cookies.
"Although each Christmas character transformation could have been made into an app of its own, we wanted to provide maximum value for Santa Booth by essentially making 4 booth apps in 1." – Drew Ramsey, Co-Owner
Taking full advantage of face detection technology, Santa Booth manipulates one's facial features and adds additional elements to the face, producing an extremely authentic Christmas character transformation. For instance, by choosing "Santa", Santa Booth will make one's face fat, nose round, put bags under the eyes, add rosy cheeks, and allows the option to add a beard, hair, eyebrows, Santa hat, and glasses. Santa's other 3 friends use exclusive facial manipulations of their own.
"Too much fun! Seriously get ready to spend time making everyone in your house look like Santa and his elves!" – Amy Mayfield
Analog Nest is one of the most recent start ups for entrepreneur brothers Tyler and Drew Ramsey, who own a women's fashion brand (Idylle Clothing) that they have run for over 6 years. Although apps are a huge diversion from the fashion industry, the brothers are focused and determined to become one of the top mobile app publishers by bringing their unique design and marketing experience to the world of apps. Santa Booth is the first of many exciting game and entertainment apps in the works for Analog Nest.
"Coming from a background in graphic design, our focus will always be in superior design and simplicity, and boiling "fun" down to it's simplest form." – Tyler Ramsey, Co-Owner.
Start capturing your Holiday memories now by downloading Santa Booth in the iTunes app store.
###