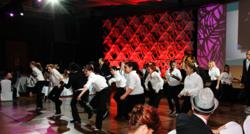 Entertainment for a convention reception is a must and so is event photography to capture all the fun.
San Antonio, TX (PRWEB) October 28, 2011
Event photography and convention photography work together to create a powerful marketing combination for Professional Images Photography. Last night in San Antonio, TX a party was happening and only a professional event photographer can capture. Using the very latest in digital cameras that also provides HD quality videography Professional Images was able to deliver what the client needed.
Bravo Entertainment asked Joseph Rodriguez of Professional Images Photography to provide video and photography for a flash mob scene for a corporate group at the Marriott Rivercenter Hotel. The images and video that was captured will be used to market this unique form of entertainment.
Entertainment during a reception is a must to keep the attention of the guests and create goodwill for all. Depending on the theme the entertainment can be visual, interactive or a combination of both. Event photography captures all the above and more.
The difference between event photography and convention photography is, entertainment, décor and themes for the party make up the photography requirements while convention photography focuses on the general sessions, registration, breakouts, speakers and tradeshow areas. Professional Images photography realizes the importance of the two and know how to create images that exciting and also marketable for both the convention group and the meeting planners.
As the convention season races all over the United States, Professional Images Photography will be there document, capture and create moments with digital cameras. Looking at the photos you know it was a good time for all.
Professional Images Photography and onsite printing with social media is a refreshing addition to convention photography service. Joseph said that the impact of this new service has created another market and with already many inquires 2012 is looking really good.
About Us:
Professional Images Photography has been providing Convention, Corporate and Trade-show Photography since 1987. Based in San Antonio, TX with offices in Washington, D.C., New York, NY, Houston, TX and coming soon, Las Vegas, NV
# # #