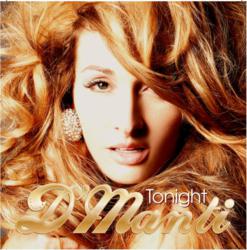 I am so excited about breaking Billboard's top 20! I'm sending a huge 'THANK YOU' to all of the DJs for their support!
West Hollywood, CA (PRWEB) October 26, 2011
Dance-pop artist D'Manti soars up the Billboard Club Play chart this week, with her debut hit single "Tonight." Breaking into the top-twenty this week, "Tonight" moves up seven notches to the #20 spot with a bullet. On the FMQB Record Pool chart "Tonight" has claimed the #13 slot this week. The current issue of DJ Times Magazine reports D'Manti's "Tonight" entering at #40 on the National Dance/Crossover chart and at #2 on the Most Added Dance/Crossover Tracks chart for the week ending October 3.
"Tonight" is produced by Luny Tunes and features remixes from Mixin Marc & Tony Svejda, WAWA, DJ Mike Cruz and Smash Mode. The "Tonight" single is also currently spinning on the following major dance stations: WNRG - Melbourne, FL, FusionRadio.fm, Dance Factory FM - WCPT, Music Choice, B91 and AOL Radio.
"I have dozens of songs that I have written and recorded, but the romance of 'Tonight' has always made it one of my favorites," states D'Manti. "I am so excited about breaking Billboard's top 20! I'm sending a huge 'THANK YOU' to all of the DJs for their support!"
The "Tonight" music video from D'Manti is choreographed by Doriana Sanchez (So You Think You Can Dance, Cher, and Christina Aguilera) and features reggaeton rapper Mr. Phillips. Shot on location in Miami, FL and Las Vegas, NV, D'Manti's "Tonight" video is a romantic dream sequence featuring fire dancers, Miami club scenes and the Mojave desert under the light of the moon. To view visit: http://www.youtube.com/watch?v=rKs6pwKHYC8 or on http://vimeo.com/31096248.
On Wednesday, November 23, one of the biggest club nights of the year—the night before Thanksgiving, D'Manti will seize the stage with her dancers at The Abbey in West Hollywood. D'Manti will perform as a special guest of Robin Gans and Sandy Sachs for Girl Bar Los Angeles. Performance is scheduled at midnight for a 21 and over crowd. The Abbey Food and Bar is located at 692 North Robertson, West Hollywood, Calif. 90069.
ABOUT D'MANTI
Born and raised in Las Vegas, NV, D'Manti's artistry includes singing, acting, songwriting, dancing, playing saxophone and producing. Many fans may be surprised to learn that D'Manti also served our country as a United States Marine. D'Manti has appeared in a variety of theatre productions, television shows and independent films. Performing in English and Spanish, D'Manti combines all of her theatrical showmanship into a stage show combining original upbeat songs, LIVE vocals, magnificent costumes and spectacular choreographed routines–all with sexy pop-dance fusion flair.
For more information visit:
http://www.dmanti.com
Follow D'Manti on Twitter at Twitter.com/DmantiOfficial
Contact: Jim Strzalkowski of Media Giants, (310) 652-2283, jim(at)mediagiantsusa(dot)com
###